Images are representations only.
Intermediate range laser level transmitter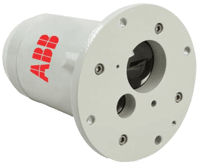 Based on pulsed laser technology, the LM80 embodies speed and accuracy in a single, easy to use and install product.

Whether measuring a few meters into the confined space of a crusher, or to the bottom of the tallest silo, the LM80 with its laser pointer and long range is the plug-and-play solution to level measurement.

The LM80 features advanced timing and sophisticated signal processing for pinpoint accuracy at up to 100 m (330 ft.) for level applications and up to 150 m (500 ft.) for positioning applications.
Specifications
Range
0.5 m (1.5 ft) to 30 m (100 ft) - dark colored surfaces
0.5 m (1.5 ft) to 100 m (150 ft) - light colored surfaces
0.5 m (1.5 ft) to 150 m (500 ft) - reflective targets in positioning applications
Update Rate
3 Readings per second (Max.), 1 Reading per minute (Min.)
Operating Temperature
-40° C to +60° C (-40° F to +140° F)
-40° C to +45° C (-40° F to +113° F) with Non-Condensing option (heated lens option (AC and SC))
Survival Temperature
-40° C to +80° C / -40° F to +176° F
Analog
4-20 mA, NAMUR compliant Non-Isolated and self Powered
Digital (Relay)
2 SPST Relays: 0.5 A at 120 Vac, 0.25 A at 250 Vac, 1 A at 24 Vdc, 0.5 A at 60 Vdc
Communication
Standard Male DB9 Connector - RS-232 for testing, troubleshooting and configuration 19200 baud, 8 data bits, 1 stop bit, no Parity, no flow Control
Voltage
24 Vdc typical (18 to 32 Vdc)
Current
0.4 A peak, 0.2 A Continuous
0.52 A peak, 0.32 A Continuous with Non-Condensing optics
Base Plate Diameter
Flange - 140 mm (5.51 in)
Tri-Clover - 120 mm (4.72 in)
Length
Flange - 172 mm (6.77 in)
Tri-Clover - 166 mm (6.54 in)
Weight
316 Stainless Steel Enclosure - 4.2 kg (9.26 lbs)
Aluminum Enclosure - 1.6 kg (3.53 lbs)
Aluminum Enclosure with Tri-Clover - 2.2 kg (4.85 lbs)
Enclosure Material
Powder-Coated Aluminum Standard, 316 Stainless Steel option
Mounting / Process Connection
Tri-Clover - 316 Stainless Steel plate with Seal groove
Flange - 4 holes, 8.5 mm (0.33 in) diameter on 120 mm (4.72 in) diameter Circle
Measuring Laser Lens Diameter
Beam Direction
90° ± 1° from Mounting flange
Measuring Laser
905 nm near infrared pulsed semiconductor laser
12 mW Average Power output
20 W peak Power output
Pointing Laser
635 nm Red semiconductor laser
3 mW Continuous
Measuring Laser Life Expectancy
Purge Air Flow
Must be oil free dry Air recommended flow between 0.5 and 4 L/minute Max. pressure 5.5 bar (80 psi)
Enclosure Rating
IP66/NEMA 4X (Dust proof, can be washed down with High Pressure Hose)