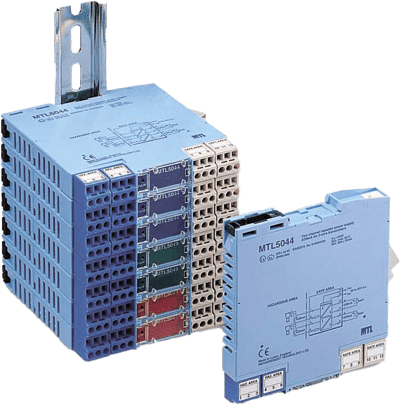 Images are representations only.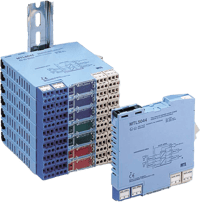 MTL5000 range of isolators provide intrinsically safe (IS) communication and signal conditioning for a wide range of hazardous-area devices. Total ac and dc isolation exists between input, output and power supply on separately powered units, and between input and output on loop-powered units.

No IS earth is required. DIN-rail mounting and plug-in signal and power connectors simplify installation and maintenance. Units are powered from a 20 to 35V dc supply, or, in some cases, from the signal itself.
Specifications
Connectors
Each MTL5000 unit is supplied with signal and power connectors, as applicable
When using crimp Ferrules for the hazardous and Non-hazardous (safe) signal Connectors the metal Tube length should be 12 mm and the wire trim length 14 mm. for the Power Connectors the metal Tube length should be 10 mm and the wire trim length 12 mm.
See INM5000 for recommended Ferrules
Isolation
250 V rms between Input, output and Power Supply terminals, tested at 1500 V rms minimum between safe- and hazardous-area terminals. MTL5073, output and Power Supply not isolated
Terminals
Accommodate conductors of up to 2.5 mm 2 stranded or single- core
Mounting
On 35 mm (Top hat) Rail to: EN 50022-35 × 7.5, BS 5584, 35 × 27 × 7.3 DIN 46277
Ambient Temperature Limits
-20° to +60° C (-6° to +140° F) operating
-40° to +80° C (-40° to +176° F) storage
Humidity
5 to 95 % Relative Humidity
Weight
110 g approx (Except where indicated)