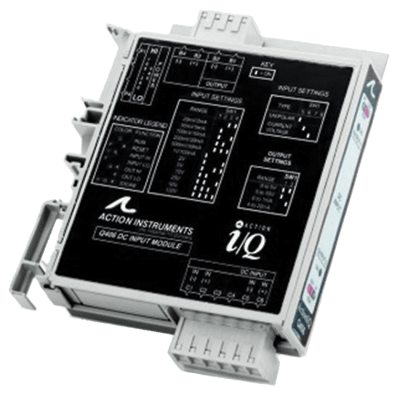 Images are representations only.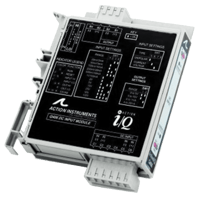 The model Q408 is a DC powered, DIN rail mount, DC input signal conditioner, with 1,800 V isolation between input, output and power.

The field configurable inputs and outputs provide flexible, wide ranging capability for DC current and voltage signals.

The Q408 is available as a single channel signal conditioner (1 input / 1 output) or a multi-channel signal conditioner (2 inputs / 2 outputs).

All models maintain the high 1,800 V isolation level from channel to channel, as well as input to output to power.
Features
Field configurable input ranges
Field configurable output ranges
1,800 Vac isolation
TouchCAL technology
High density DIN rail mounting
Universal DC power 10.8 to 26.4 Vdc
SnapLoc plug-in terminals
Specifications
Accuracy
Output Accuracy (2 mA / > 20 mV Input Spans): ± 0.1 % of Full Scale Input Typical
Output Accuracy (> 2 mA / > 20 mV Input Spans): ± 0.2 %, Maximum
Approvals & Certifications
CSA C22.2 - File No. LR42272
IEC 801-2
UL (C,US)
UL 508 (File No. E99755)
Electrical Connectors
Plug-In Terminal
Wire Termination: Socketed Screw Terminals for 12 to 22 AWG
Electrical Rating
0-1 mA at 7.5 V, Maximum
0-20 mA at 12 V, Maximum
Humidity
Operating: 15 to 95 % Relative Humidity, Non-Condensing at 45° C (113° F)
Soak: 90 % Relative Humidity, Non-Condensing for 24 Hours at 60° C (140° F)
Hysteresis
Output Accuracy (< 2 mA / < 20 mV Input Spans): ± 0.35 % of Full Scale Input Typical at 23° C (73.4° F)
Output Accuracy (< 2 mA / < 20 mV Input Spans): ± 0.5 %, Maximum
Input
1-100 mA
1-100 V
20-500 mV
Calibrated Input: 4-20 mA
Current (Overvoltage): 60 V
Overcurrent: 170 mA, Protected by Self Resetting Fuse
Overvoltage: 200 V
Input Impedance
Current: 20 ohms Typical
Output Current (Source Impedance): > 100 kiloohms
Output Voltage (Source Impedance): < 10 ohms
Voltage: ≥ 100 kiloohms
Isolation
≥ 1,800 Vdc or Peak AC between Input, Output, Power & Channel to Channel
Linearity
Output Accuracy (< 2 mA / < 20 mV Input Spans): ± 0.35 % of Full Scale Input Typical
Output Accuracy (< 2 mA / < 20 mV Input Spans): ± 0.5 %, Maximum
Operating Temperature
0° to 55° C (32° to 131° F)
Output
0-10 V
0-20 mA
Calibrated Output: 4-20 mA
Compliance: 10 V, Maximum
Voltage Drive: 10 mA - Maximum
Power
2.5 W, Maximum
9-30 Vdc
Universal DC Power: 10.8-26.4 Vdc
Repeatability
Output Accuracy (< 2 mA / < 20 mV Input Spans): ± 0.35 % of Full Scale Input Typical
Output Accuracy (< 2 mA / < 20 mV Input Spans): ± 0.5 %, Maximum
Response Time
200 milliseconds, Typical
Span & Zero Adjustments
Output Ripple (50 % Offset or Span Adjust): 50 % Offset or Span Adjust): 10 mV) [Effective Zero Offset, Effective Span Turn Down]: ≥ 90 % Except 20 mV/2 mA Range in which 50 % Is, Maximum
Stability
± 0.025 % of Full Scale/°C, Maximum
Storage Temperature
-25° to 70° C (-13° to 158° F)
Zero Offset
Pushbutton Adjustment (Inputs > 10 mV) Effective Zero Offset: ≥ 90 %