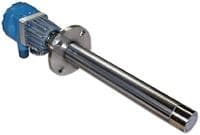 Images are representations only.
6888A In Situ Oxygen Analyzer
Brand:
Rosemount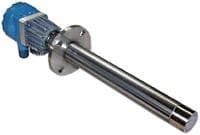 The Rosemount 6888 In Situ Oxygen Analyzer provides a continuous, accurate measurement of oxygen in flue gases coming from any combustion process.

Accurate measurement of excess oxygen is critical to optimize the combustion reaction, resulting in reduced energy costs, increased safety, and lower emissions.

Achieve a reduction in overall downtime and maintenance with the robust oxygen sensor and autocalibration capabilities of this transmitter.
Features
Includes industry-leading accuracy of ±0.75% of reading or ±0.05% O2, whichever is greater
Digital communication HART® 5 and FOUNDATION™ Fieldbus protocols available to suit a wide range of applications
Optional Xi Electronics include a local operator interface (LOI), a large, backlit LCD display and advanced software features
Probe mounting adaptors allow for easy connection to existing Westinghouse World Class, Rosemount Oxymitter and most competitive O2 probe installations
Advanced sensor diagnostics indicate when calibration is recommended and when there is a plugged diffuser or filter
The Rosemount 6888 is fully field-repairable and includes a variable probe insertion option
HART® wireless communication from probe or Xi
Specifications
Accuracy
± 0.75 % of Reading or ± 0.05 % O₂, whichever is greater
Ambient Temperature
-40° to 70° C (-40° to 158° F)
Storage Temperature
-40° to 70° C (-40° to 158° F)
Approvals & Certifications
Length
Probe Length: 18" to 144" (460 to 3,660 mm)
Communication
4-20 mA HART
FOUNDATION Fieldbus
Process Temperature
Up to 1,050° C (1,922° F) with Optional Bypass & Jacket
Up to 705° C (1,300° F)
Power Requirement
120/240 Vac, 50/60 Hz, 260/1,020 VA Max