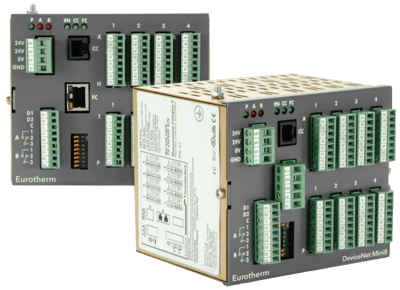 Images are representations only.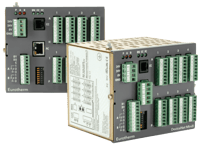 The Mini8 Controller offers high performance control usually only found in Eurotherm panel mount PID controllers.

It is also a very competitive and compact data acquisition device.

Its modular design enables its I/O and feature set to be selected to cater for a wide range of applications from simple to complex.

The Mini8 controller is an ideal partner to a programmable logic controller.

Able to multi-drop on either serial, fieldbus or ethernet communications.

It offers an effective alternative to performing Analog measurement or loop control in a PLC.

Implementing these functions in the Mini8 controller PLC relieves it of the burden of performing Analog functions, often allowing a lower specification processor to be used.
Features
16 Control loops
32 Analog inputs
Modular and compact
SP programming
Maths and logic
Remote HMI
Modbus RTU
DeviceNet network
Profibus DP network
Modbus TCP
EtherNet/IP
EtherCAT
OEM Security
Specifications
Accuracy
Current-Transformer Input Card (Factory Set Accuracy): Better than ± 2 % of Range
Output Card (Setting Accuracy): ± 0.5 % of Reading
Thermocouple (CJ Accuracy): ± 1° C (± 1.8° F)
Thermocouple: ± 1° C (± 1.8° F) ± 0.1 % of Reading (Using Internal CJC)
Approvals & Certifications
CE
cUL Listed (File E57766)
EMC Directive 2004/108/EC, EN 61326
LVD Directive 73/23/EEC
Approvals & Certifications
EN 61010
FC (Factory Calibration Certificate)
Calibration
Input Card Pt100 (Calibration Error): ± 0.1 ohms ± 0.1 % of Reading, 22 to 420 ohms
Input Card Pt100 (Calibration Error): ± 0.3° C (± 0.54° F) ± 0.1 % of Reading, -200° to 850° C (-328° to 1,562° F)
Input Card Pt1000 (Calibration Error): ± 0.2° C (± 0.36° F) ± 0.1 % of Reading, -200° to 850° C (-328° to 1,562° F)
Input Card Pt1000 (Calibration Error): ± 0.8 ohms ± 0.1 % of Reading, 220 to 4,200 ohms
Communication
Baud Rate: 100BASE-T
Baud Rate: 125K, 250K or 500K
Baud Rate: 4,800, 9,600, 19,200 bit/sec
DeviceNet: CAN, 5-Pin Standard Open Connector with Screw Terminals
EtherCAT: Standard Ethernet RJ45 Connector
EtherNet/IP: Standard Ethernet RJ45 Connector
Ethernet: Standard Ethernet RJ45 Connector
Modbus RTU: RS-485, 2 × RJ45, User Select Switch for 3-Wire or 5-Wire
Modbus/TCP
PROFIBUS DP: RS-485 Via Standard 9-Pin D Connector or 2 RJ45 Connectors
Consumption
Power Comsumption: 15 W, Maximum
Current
Ananlogue Output (Output Current): 0-20 mA
Current-Transformer Input Card (Current Input): 0-50 mArms, 50/60 Hz Nominal
Fixed I/O Resources (Contact Current): < 1 A (Resistive Loads)
Fixed I/O Resources, Logic Input Card (Input Current): 10 mA - Maximum
Fixed I/O Resources, Logic Input Card (Input Current): 2.5 mA Approximately at 10.8 V
Input Card (Pt100, Pt1000 Bulb Current): 300 μA
Relay Output Card, Maximum
Thermocouple (Input Leakage Current): < 100 NA (1 NA Typical)
Humidity
Operating Humidity: 5 to 95 % Relative Humidity, Non-Condensing
Input
Current-Transformer Input Card (Input Load Burden): 1 W
Fixed I/O Resources, Logic Input Card: 24 Vdc
Thermocouple: -77 to 77 mV
Thermocouple8 8-Channel & Thermocouple4 4-ChanneL Thermocouple Input Card (Common Mode Rejection): > 120 dB, 47 to 63 Hz
Thermocouple8 8-Channel & Thermocouple4 4-ChanneL Thermocouple Input Card (Series Mode Rejection): > 60 dB 47 to 63 Hz
Interval Time
Load Failure Detection (Measurement Interval): 1 to 60 seconds
Isolation
Channel to Channel, Isolation to System: 42 V Peek, Maximum
Relay Output Card (Channel to Channel, Isolation to System): 264 V, 230 V Nominal
Linearity
Input Card (Pt100, Pt1000 Linearity Error): ± 0.02 ohms, ± 0.05° C (± 0.09° F)
Load
Ananlogue Output: Maximum
Mounting
DIN Rail to EN 50022 35 × 7.5 or 35 × 15 Horizontally
Horizontal
Operating Temperature
0° to 55° C (32° to 131° F)
Output
Digital Output Card (Logic 0 Voltage Output): < 1.2 Vdc No-Load
Digital Output Card (Logic 0 Voltage Output): 0.9 V Typical
Digital Output Card (Logic 1 Current Output): 100 mA - Maximum
Digital Output Card (Terminal Supply Protection): Card Supply is Protected by 200 mA Selfhealing Fuse
Output Card: 0-20 mA, 360 ohms Load, Maximum
PID Control Loop Blocks (Control Output): Analog 4-20 mA
Relay Output Card (Minimum Contact Wetting): 10 mA
Relay Output Card (Minimum Contact Wetting): 5 Vdc
Relay Output Card, Maximum
Resistance
Input Card (Pt100, Pt1000 Lead Resistance): 22 ohms, Maximum
Input Card Pt100 (Input Range): 0 to 420 ohms, -242.02° to 850° C (-403.64° to 1,562° F)
Input Card Pt100 (Measurement Noise): 0.016 ohms, 0.04° C (32.07° F) Peak-to-Peak, 1.6 seconds Channel Filter
Input Card Pt100 (Measurement Noise): 0.06 ohms, 0.15° C (32.27° F) Peak-to-Peak, No Filter
Input Card Pt1000 (Input Range): 0 to 4,200 ohms, -242.02° to 850° C (-403.6° to 1,562° F)
Input Card Pt1000 (Measurement Noise): 0.2 ohms, 0.05° C (32.09° F) Peak-to-Peak, 1.6 seconds Channel Filter
Input Card Pt1000 (Measurement Noise): 0.6 ohms, 0.15° C (32.27° F) Peak-to-Peak, No Filter
Thermocouple (Input Resistance): > 100 megaohms
Resolution
Analog Output Card: 1 μA Typical
Input Card Pt100: 0.008 ohms, 0.02° C (32.04° F)
Input Card Pt1000: 0.6 ohms, 0.15° C (32.3° F)
Thermocouple: 1.6 µV with 1.6 seconds Filter Time
Thermocouple: 20-bit (∑∆ Converter)
Sensor, Probe Type
B Thermocouple
C Thermocouple
J Thermocouple
K Thermocouple
L Thermocouple
N Thermocouple
R Thermocouple
S Thermocouple
T Thermocouple
Storage Temperature
-10° to 70° C (14° to 158° F)
Supply Voltage
Digital Output Card (Channel Supply): 15-30 Vdc
Power Supply Voltage: 17.8-28.8 Vdc
Temperature Coefficient
Input Card (Pt100, Pt1000): ± 0.002 % ohms Reading/°C Ambient Change Relative to Normal Ambient 25° C (77° F)
Thermocouple: < ± 50 ppm (0.005 %) of Reading/°C
Temperature Range
Thermocouple (Cold Junction Range): -10° to 70° C (14° to 158° F)
Unit of Measure
Temperature Unit: Centigrade
Temperature Unit: Fahrenheit
Voltage
Fixed I/O Resources (Terminal Voltage): < 42 Peek