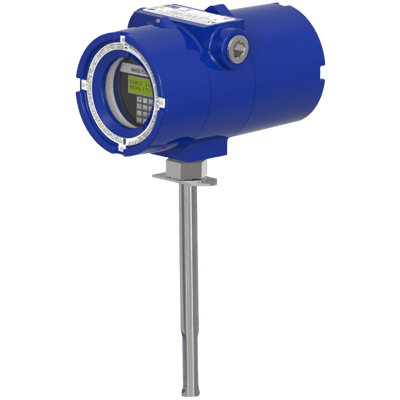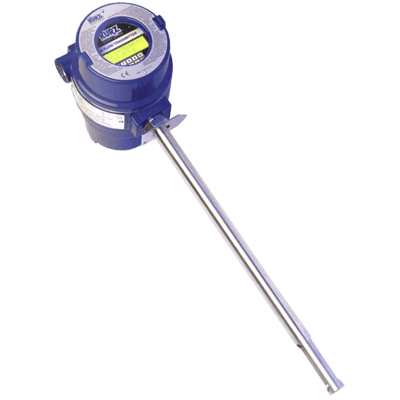 Images are representations only.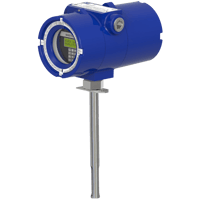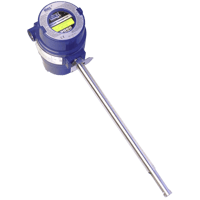 The Kurz Series 454FTB is the premier single-point insertion thermal mass flow meter for industrial gas flow measurements.

The 454FTB supports process temperatures from -40° to 260° C and from -40° to 500° C, process pressure ratings up to 300 psig, and a velocity range from 0 to 24,000 SFPM.
Features
Built‐in dry gas flow calculation on all flow units for saturated processes
Variable CH₄ composition for a CH₄/CO₂ gas mix.
Up to five user-selectable pure or mixed gas calibration curves
Interchangeable sensor and electronics (single circuit board) - no matched sets
Continuous self‐monitoring electronics that verify the integrity of sensor wiring and measurements
Zero velocity as a valid data point
Sensor does not overheat at zero flow by using a unique constant temperature control method and power limiting design
Supports HART, Profibus DP, and Modbus communication protocols
Sensor Blockage Correction Factor (SBCF)
Flexibility with transmitterattached or transmitter-separate designs
Fogging in stacks and around fan inlets can be monitored
Accurate and real time digester measurements reveal digester imbalances, enabling early corrective action
Specifications
Accuracy
16-bits
Flow Accuracy: ± 1 % of Reading +20 SFPM
Temperature Accuracy: ± [0.5 % of Reading +1° C (1.8° F)] for Velocities Above 100 SFPM
Applications
Aeration Air & Treat Biogas
Boilers & Recovery Boilers
Cement Plants
Coal Pulverizer Air
Compressed Air
EPA & AMS Emissions Monitoring
Flare Gas
Industrial & Process Gases
Primary, secondary, Tertiary & Overfire Air
Stack & Flue Gas
Approvals & Certifications
ATEX
CE
CRN
CSA Class I, Division 1 & 2
EMC
EN IEC 60079.0, EN IEC 60079-1, EN IEC 60079-15
EPA Mandatory GHG Certification: 40 CFR 98.34(C)(1)
LVD
NAMUR NE43
PED
RoHS
TÜV Rheinland SIL1
WEEE
Communication
HART (v7 FSK)
Modbus
PROFIBUS DP
RS-485
USB
Flange Material
316L Stainless Steel
C-276 Alloy with Abrasion-Resistant Aluminum Titaniu Nitride (AlTiN) Coating
C-276 Alloy with PTFE Coating
C-726 Alloy
Flange Size - 1" (DN 25)
1" (DN 25) - 150#
1" (DN 25) - 300#
Flange Size - 1/2" (DN 15)
1/2" (DN 15) - 150#
1/2" (DN 15) - 300#
Flange Size - 1-1/2" (DN 40)
1-1/2" (DN 40) - 150#
1-1/2" (DN 40) - 300#
Flange Size - 1-1/4" (DN 32)
1-1/4" (DN 32) - 150#
1-1/4" (DN 32) - 300#
Flange Size - 2" (DN 50)
2" (DN 50) - 150#
2" (DN 50) - 300#
Flange Size - 2-1/2" (DN 65)
2-1/2" (DN 65) - 150#
2-1/2" (DN 65) - 300#
Flange Size - 3" (DN 80)
3" (DN 80) - 150#
3" (DN 80) - 300#
Flange Size - 3/4" (DN 20)
Flange Size - 4" (DN 100)
4" (DN 100) - 150#
4" (DN 100) - 300#
Input Power
24 Vdc ± 10 %, 1 A, Maximum
85-264 Vac 50/60 Hz, 24 W, Maximum
Length
Sensor Support Length: 6" to 60" (152 to 1524 mm)
Materials of Construction
Sensor Support: 316L Stainless Steel (Standard)
Sensor Support: C-276 Alloy (Optional)
Sensor Support: PTFE-Coated (Optional)
Operating Temperature - Electronics
Integral Display: -25° to 65° C (-13° to 149° F)
Remote Aluminum Enclosure: -40° to 65° C (-40° to 149° F)
Remote Polycarbonate Enclosure: -25° to 50° C (-13° to 122° F)
Output
4-20 mA Optically-Isolated Loop Powered 4-20 mA Output (± 48 Vdc Isolation)
Pressure Rating
Up to psig: 300 (barg: 20.68, kPa: 2068.43)
Process Temperature
-40° to 260° C (-40° to 500° F) HT
-40° to 500° C (-40° to 932° F) HHT
Range
Velocity Range: 0 to 70,000 SFPM (325 NMPS)
Sensor, Probe Diameter
1" (25.4 mm)
1/2" (12.7 mm)
3/4" (19.05 mm)
Sensor, Probe Material
C-276 Alloy All-Welded Sensor Construction (Standard)
Time Constant
Process Temperature Time Constant: 8 seconds for Temperature Changes at 6,000 SFPM (Constant Velocity)
Velocity Time Constant: 1 second for Velocity Changes at 6,000 SFPM (Constant Temperature)
Aeration Air & Treat Biogas
Boilers & Recovery Boilers
Cement Plants
Coal Pulverizer Air
Compressed Air
EPA & AMS Emissions Monitoring
Flare Gas
Industrial & Process Gases
Primary, Secondary, Tertiary & Overfire Air
Stack & Flue Gas
The rugged design of the 454FTB is built for demanding environments including:

Chemical & Petrochemical Processing
Power
Wastewater
Pulp & Paper Mills
Cement
Nuclear
Any application where durability, accuracy, and repeatability are required, such as:

Combustion Control
Greenhouse Gas Emissions
Air Sampling
Stack & Flare Monitoring