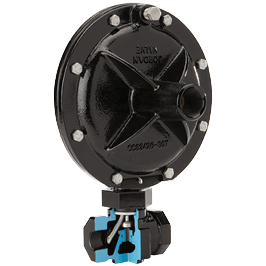 Images are representations only.
Mark 608IS Series Tank Blanketing / Low Pressure Gas Regulator
Brand:
Jordan Valve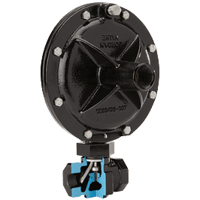 The Mark 608IS gas pressure regulator is ideal for low-pressure gas regulation. The self-contained, low-pressure gas regulator is for use on tank blanketing, gas meter inlet pressure regulating, gas burners, and other low-pressure air and gas applications.

The Mark 608IS is normally open. The aspirator senses increases in the outlet pressure, causing the large elastomer diaphragm to rise, moving the plug toward the seat. As outlet pressure decreases, the diaphragm shifts down and moves the plug away from the seat to increase flow.

The lever, which connects the stem to the diaphragm, amplifies diaphragm forces for tighter shutoff.
Features
Inlet pressures up to 150 psi (10 bar).
Rugged, heavy-duty design allows emergency outlet pressure to reach 100% of inlet pressure without damaging valve.
360° body orientation enable valve installation in any position and easy repositioning in-line.
Easy to inspect and maintain – Seat and plug can be inspected without removing body from the line.
Completely self-operated. No external power source required.
Soft elastomer plug provides ANSI Class VI shutoff.