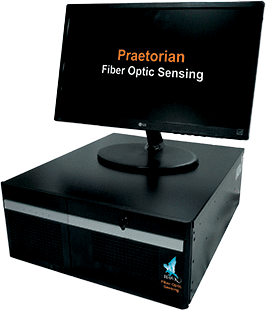 Images are representations only.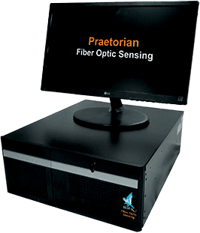 The Praetorian Fiber Optic Sensing System can be installed on a buried or unburied pipeline and can immediately detect pipeline leakage, ground disturbances, manual and machine excavation, theft, hot tapping and vehicle movement.

The Fiber Optic System continually monitors large spans of pipeline, looking for vibration and temperature changes. Once a detection occurs, the system alerts the operator or security personal to the exact location of disturbance in the pipeline. This type of real-time intelligent monitoring is critical to operating efficiently and protecting valuable assets.
Features
Praetorian can function on applications where either the product is invisible (gas) or the pipeline cannot be visually inspected (buried).
Immune to the effects of a broken or cut fiber
Fiber optic sensing detects not only the presence of the leak but its specific location.
Self-diagnostics monitor the unitÍs condition and maintain optimum performance
No maintenance or calibration require after commissioning
Monitor up at 80 km (50 mi) at the same time.
24/7 real-time monitoring
Specifications
Sensing Element
Fiber Optic Sensing Cable
Power Supply
110-240 Vac (50/60 Hz), 24 Vdc
Sensing Range
Conveyors: Up to 50 kms (31 miles) Per Channel
Temperature: -250° to 700° C (-418° to 1,292° F)
Operating Temperature
Interrogator: 0° to 40° C (32° to 104° F)
Storage Temperature
Interrogator: -20° to 60° C (-4° to 140° F)
Humidity
Operating: 10 % to 85 % @ 40° C Non-Condensing
Storage: 10 % to 95 % @ 40° C Non-Condensing
Light Source
Laser (Infra Red) Class 1M
Processor Transfer Rate
64 Bit (Ultra High Speed)
Output
Modbus Over Ethernet (Standard), Relay and USB
Resolution /Sensing Distance
0.01° C (32.018° F) / 100 km (62 miles)
Oil (Crude of Refined) 
Gas (Any Type) 
Chemical 
Mining Tailings 
Water/Waste Water 
Brine 
Slurries 
Steam