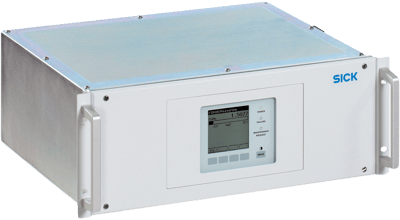 Images are representations only.
GMS800 FIDOR Extractive Gas Analyzer
Part Number:
GMS800 FIDOR
Brand:
Sick AG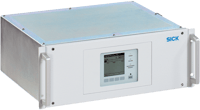 A member of the GMS800 analyzer family, the GMS800 FIDOR extractive gas analyzer is ideally suited for emission monitoring according to regulatory requirements (in waste incinerators, cement and/or power plants, for example).

Based on the proven flame ionization detection principle, the GMS800 FIDOR measures total hydrocarbon concentrations in gases at both trace levels and high concentration levels.

The GMS800 FIDOR is available in three versions: the GMS810 FIDOR with integrated control unit (BCU), the GMS811 FIDOR with separate control unit (BCU) and the GMS840 FIDOR with a space-saving wall housing.

The housing makes integration into existing systems such as SICK's MCS100 E HW multi-component analyzer very easy.
Features
High availability of 99.5%
Convenient remote diagnosis and operation via Ethernet using SOPAS-ET software
Minimum maintenance costs due to the absence of moving parts
Replacement of complete assemblies and modules makes repairs easy
Compatible with predecessor systems
Hydrogen as fuel gas, expensive helium is not required
Low operating costs, e.g., due to low hydrogen consumption (typical 30 ml/min)
The GMS811 FIDOR, on which the control unit (BCU) can be separated from the analyzer unit, supports convenient control and monitoring from a central control room.
Specifications
Certifications & Approvals
Humidity
Ambient: ≤ 95 % Non-Condensing
Process Gas: Non-Condensing
Power Supply
100-120 Vac, 220-240 Vac, 50 to 60 Hz, Power Consumption ≤ 300 VA
GMS810, GMS811: 90-240 Vac, 47 to 63 Hz, Power Consumption ≤ 450 VA
Ssample Gas Connection
G 1/4″
Straight Screw-in Connection, 6 mm, G 1/8", Stainless Steel
12 mm Straight, 1/2″ Straight, 10 mm 90° Bent
G 1/4″, G 1/8″ Double, without Antikink, G 1/8″ without Antikink
Measuring Range
0 to 15 mg/m³ / 0 to 10,000 mg/m³
Communication Interface
Modbus
Ethernet
RTU RS-485