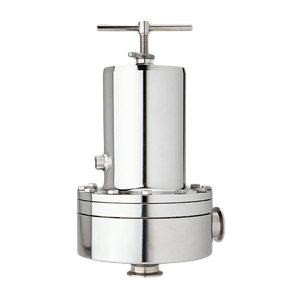 Images are representations only.
Mark 96AA Series - Air Augmented Sanitary Pressure Regulator
Brand:
Steriflow Valve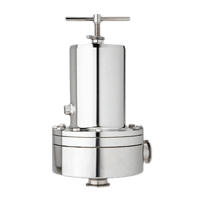 The Mark 96 with air augmentation (AA) option offers the same line sizes, Cv choices, seats, great low droop characteristics, and stability of the standard bolted bonnet Mark 96, but with an advantage.

By connecting an air pressure signal to the 1/4" FNPT dome fitting via an air regulator or I/P, the set point can be changed remotely by "sending an air signal instead of a technician".
Features
Available with extended range I-P transducer or a SST gas regulator
Fully automated operation when used with I/P. Outlet set point pressure, and operation at full open during Rinse/CIP/Rinse cycle is controlled by PLC or DCS menu
Automated operation drastically reduces offset (droop) compared with spring loaded regulators
MK95, air-loaded design significantly reduces size and weight
Optimized diaphragm material, surface area and support system for unsurpassed performance and life