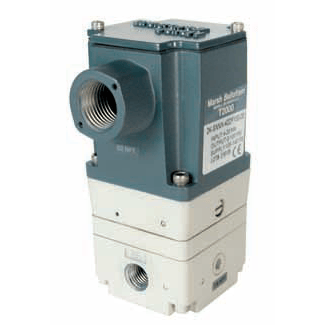 Images are representations only.
The Marsh Bellofram Type 2000 is a highly robust E/P transducer with typical full-scale accuracy of 0.1%, designed to provide precise electronic pressure control of humid (non-condensing) and oil-laden process gases within harsh industrial environments.

With a unique design that incorporates a patented, hermetically sealed piezoceramic Dimorph and isolated electronics, the Type 2000 pressure transducer regulates an incoming supply pressure down to a precise output that is directly proportional to an electrical control signal, with available pressure ranges to 120 PSIG.

In addition, the Type 2000 features a top-mount cover, which provides access to field-configurable inputs and outputs, direct/reverse acting/ranging, which allows the transducer to regulate to maximum output at minimum input; and split/full ranging capabilities.

Units also feature IP66 environmental sealing for added durability.

The uniquely rugged construction of the Type 2000 facilitates exceptional performance and longevity, making it ideal for use within corrosive environments.

This design also eliminates many of the performance issues seen in other industry piezoceramic pressure transducers, such as electronic range of authority, arcing, silver electrode migration, electrode micro cracking, de-poling, and low voltage-to-work density.
Features
±0.1% of full-scale output typical (0.25% guaranteed); includes effects of hysteresis, dead band, and repeatability
Patented, Hermetically Sealed Piezoceramic Dimorph and Isolated Electronics
Available Pressures to 120 PSIG (Zero Based)
High Immunity to EMI/RFI
Insensitivity to Extreme Temperature and Supply Pressure Fluctuations
Insensitivity to Extreme Vibration and Orientation
NEMA 4X, CE, and FM and ATEX (Intrinsically Safe) Approved Versions (S Model)
Explosion-proof and Dust-ignition Proof Versions (EX Model)
Specifications
Accuracy
0.1 % of Full Scale Output, Typical (0.25 % Guaranteed), Includes Effects of Hysteresis, Deadband & Repeatability
Applications
Agricultural Equipment
Automotive
Construction Equipment
Electric Utilities
Energy/Water Management
Environmental Control
Food & Beverage
Machine Tools
Material Handling
Medical Equipment
Pulp & Paper
Refining, Chemical, Petrochemical
Semiconductor Industry
Textiles
Approvals & Certifications
BSP Connection
1/4" BSPP Female
1/4" BSPT Female
1/8" BSPP Female
1/8" BSPT Female
Deadband, Approximate
± 0.1 % of Full Scale Output, Typical (0.25 % Guaranteed)
Electrical Connectors
1/2" NPT
20 mm Conduit
DIN Hirschmann
External Terminal Block
Environmental Protection
Dust Ignition-Proof
Explosion-proof
Intrinsically Safe
Exhaust Capacity - Relieving Units Only
3 scfm (90 NL/minute) with psig: 5 (bar: 0.35, kPa: 35) Set Point.
Flow Rate
11 scfm (312 LPM) at psig: 100 (bar: 6.9, kPa: 689) in & Out Max.
15 scfm (423 LPM) at psig: 100 (bar: 6.9, kPa: 689) in & Out Max.
17 scfm (Lpm) at 100 psig (6.9 bar, 689 kPa) in & Out Max.
21 scfm (595 LPM) at psig: 100 (bar: 6.9, kPa: 689) in & Out Max.
Input
4-20 mA
Vdc: 0-10
Vdc: 0-5
Vdc: 1-10
Vdc: 1-5
Vdc: 1-9
NPT Connection
1/4" NPT Female
1/8" NPT Female
Operating Voltages
Vdc: 1 to 5/0 to 5 (E/P)
Vdc: 1 to 9/0 to 10, mA: 4-20 (I/P)
Output Pressure
bar: 0 to 8.2
kPa: 0 to 827
psig: 0 to 120
Process Temperature
-40° to 82° C (-40° to 180° F)
Span - Minimum
External Span Adjustment - Full Range
Span & Zero Adjustments
Screwdriver Adjustments Located on Front of Unit
Storage Temperature
-40° to 93° C (-40° to 200° F)
Supply Pressure
For Output Range psig: 0 to 100 Thru 0 to 120: psig: 5 (bar: 0.3, kPa: 30) Above Max.
For Output Range psig: 0 to 5 Thru 0 to 60: psig: 5 (bar: 0.3, kPa: 30) to 100 psig Max.
Temperature Effect
0.02 % of Full Scale at -40° to 82° C (-40° to 180° F)
Vibration Effect
< 1 % of Full Scale (± 1 G, 5 to 1,000 Hz)
Agricultural Equipment
Automotive
Construction Equipment
Electric Utilities
Energy/Water Management
Environmental Control
Food & Beverage
Machine Tools
Material Handling
Medical Equipment
Pulp & Paper
Refining, Chemical, Petrochemical
Semiconductor Industry
Textiles