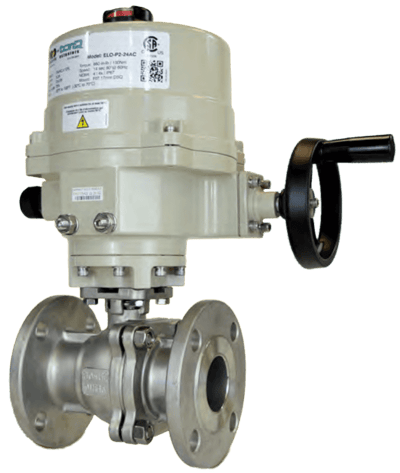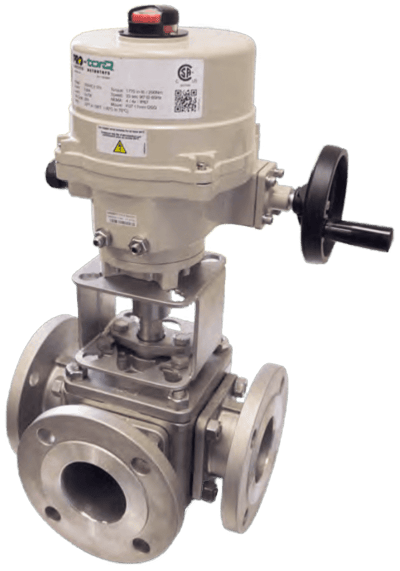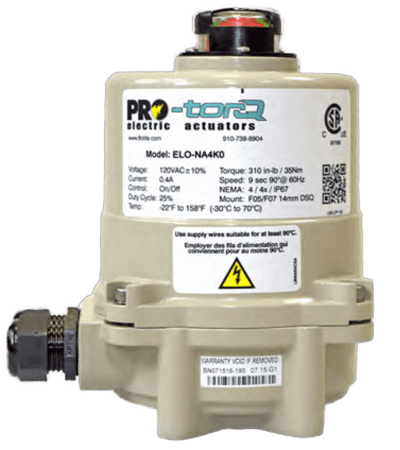 Images are representations only.
ELO Series Electric Actuators
Brand:
Flo-Tite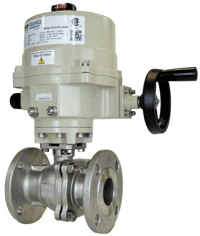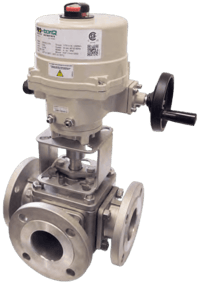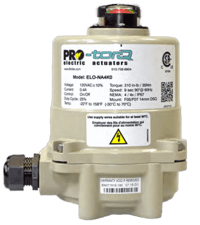 Pro-Torq's ELO Series electric actuators are designed and produced to provide years of service in demanding industrial environments such as chemical processing, waste and water treatment, power generation, oil & gas, marine, mining and building services.

These quarter-turn units drive dampers, ball valves, butterfly valves or inlet guide vanes that require torque ranges from 300 lbf-in up through 177,000 lbf-in.

The ELO Series housings are designed to meet NEMA 4X environmental demands, with ISO5211 compliant mounting that readily mounts up to most valves in the industries served.

Featuring an epicyclic transmission system, the ELO Series provides highly efficient multiplication of motor power to produce uniquely compact torque ranges compared to other technologies.

A clutch-free manual override system provides full-time override capabilities during powered or un-powered events, and allows for simple adaptation for overhead chain-wheel drive installations.

ISO Mounting Flange

The bottom of the ELO actuators are machined to meet ISO5211 standards. On the NA8 series up through the HRS4 series, should a different flange pattern be needed, these models can be fitted with available flanges without any affect on actuator performance.

Interchangeable Bushing

Our ELO series actuators are supplied with ISO5211 compliant double-square drive sockets. On the NA8 series up through the HRS4 series, the drive socket is removable and can be fitted with a different size or a different shape female drive socket.

Available patterns include square, double square, double D and round keyed shafts.

Epicyclic Drive Transmission

Highly efficient, compact transmission technology provides unmatched multiplication of motor torque compared to spur geartrain type systems.

Additionally, the final drive output utilizes worm gear geometry to provide self-locking gearsets without any type of braking required to hold the connected device in position.

This technology also allows a manual override system which does not require any type of declutching mechanism.

Color Coded Cam System

Easily accessible travel and auxiliary switch cams are color coded to provide instant recognition of the CW or CCW cams when making stroke adjustments.

Cam positions are easily changed by utilizing 2.5mm setscrews across the entire ELO range of actuators.
Features
Powder Coated Aluminum Alloy Housing
NEMA 4/4X/IP67 Enclosure
Raised Position Indicator
ISO5211 Compliant Mounting
Internal Low Power Heater
Clutchless Manual Override
Self-Locking Drive
Permanently Lubricated
Thermally Protected Motor
2 Auxiliary Switches
Silicone Free
Optional Features

Interchangeable ISO5211 Mount
Interchangeable Drive Inserts
Positioners
Extended Duty Motors
3 Position Control
Passive Analog Feedback
Torque Switches
Local Control Stations
3 phase Motor Control Center
IP68 Submersible
Specifications
Ambient Operating Range
-22° F to +158° F (-30° C to +70° C)