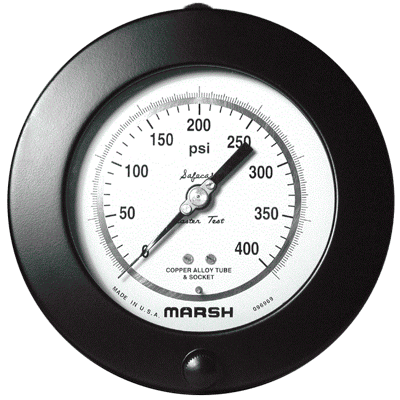 Images are representations only.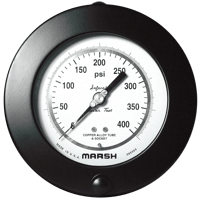 Precision Test Gauges from Marsh Instruments are designed to provide reliable pressure measurements in harsh and corrosive sour gas environments.

The Marsh Test Gauge is designed with a black painted steel housing and the choice of copper alloy or 316 stainless steel tube and socket to meet the demanding service needs of various test gauge applications. Accuracy is ±0.5% of full span.

A highly polished integral mirror is positioned between the two graduation arcs on the dial face. The knife-edge pointer is reflective so that, when the pointer and its reflection are in alignment, parallax is virtually eliminated and a true dial reading is assured.

Typical applications include test stands, aviation ground support petroleum, chemical, utilities, industrial vessels and panel builders.
Features
Adjustable Micrometer Knife-Edge Pointer with Mirror Dial. 
Stainless Steel Movement. 
Dial Size: 4.5". 
Ranges to 10,000 psi.
Specifications
Accuracy
ASME Grade A - ± 2/1/2 % (± 1 % of Range in middle half of scale)
Case Sizes
3-1/2" and 4-1⁄2" diameter
6" diameter (See options)
Case Style
F - Front Flanged
Lower Back Mount with U-Clamp has Hinged Ring (LBM)
G - Back Flanged Case
P - Plain Case, Lower Mount
Tube
0 to 1,000 psi: Copper Alloy
1,500 psi - 20,000 psi: Stainless Steel
Ranges
0 to 30" Hg Vac, Compound
30" Hg Vac to 300 psi, 15 to 20,000 psi
Weight
3-1/2": 2.0 lb
4-1⁄2": 3.0 lb
Test stands
Aviation ground support
Petroleum
Chemical
Utilities
Industrial vessels
Panel builders