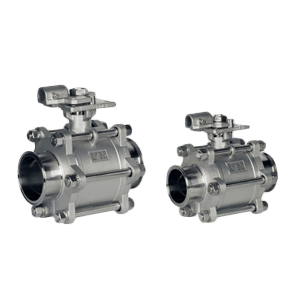 Images are representations only.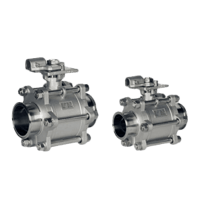 The Mark 9020 Series ball valves take ASME BPE guidelines to heart.

This valve was designed from the beginning to meet every aspect of ASME BPE.

From the materials chosen for seats and seals to the final marking and documentation, you can trust the Steriflow name.
Features
New DIN 11866-A, and B (ISO) tube weld end models available
ASME BPE 2009 guidance compliance
Traceable industry grade high density 316L body, ball, steam and end caps with <3% ferrite standard, 1% optional
Certified TFM 1600 body seal, seat, thrust washer, and packing material meet: FDA 21 CFR 177 and final form materials certified to meet USP Class VI (in-vivo), and USP (in-vitro) testing requirements
Documented surface finish on all wettable components is SF1 (20 Ra mechanical polish), SF4 (15 Ra µin mechanical/electropolish optional)
Ball port has identical ID as inlet/outlet tubing to prevent holdup
Pressure ratings up to 1000 psig @ 100°F
Anti-blowout stem design
ISO 5211 actuator mounting pads
Integral lockout/tagout facility
Live loaded packing to insure against leaks or contaminant ingress