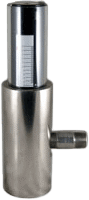 Images are representations only.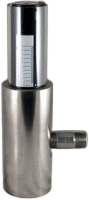 The HawkVFlo HFHM High Pressure Flow Meter is offered in liquid and gas configurations, this flow meter is a great choice for a diverse range of flow services.

Liquid examples include hydraulic oil, grease, solvents and dirty fluids including mild slurries. Gas examples include compressed air and digester gas.
Features
304 stainless bodies & internals standard
Standard 1/2", 3/4" and 1" female NPT connections. Pipe adapters may be used for other sizes without affecting accuracy
360° rotation of scales. Special scales for other units or fluids and multiple scaling offered
Specifications
Repeatability
± 1/2 % of indicated Flow Rate
Pressure Rating
Up to 150 psig for Flanged Models
300 psig, Depending on Meter Type, Temperature and Service Conditions
O-ring Material
Buna N Standard
Viton, Ethylene-Propylene (EPR), Silicone, Neoprene, Kalrez and Teflon Optional
Process Temperature
-20° to 240° F (-29° to 116° C)
Ambient Temperature
-20° to 158° F (-29° to 70° C)
Power Requirement
0.5 Vdc Output 10-30 Vdc @ 3-Wire
0-10 Vdc Output 12-30 Vdc @ 3-Wire
4-20 mA Output Loop-powered, 12-30 Vdc - 2-Wire
Analog Output
0-5 Vdc and 0-10 Vdc into 10,000 Ohms Min.
4-20 mA into 1000 Ohms Max.
Biodiesel 
Chemical Processing 
Biomedical 
Hydraulic