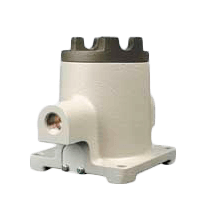 Images are representations only.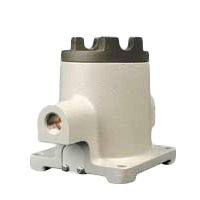 The Type 5000 PI Transducers is a compact, rugged and reliable two-wire pressure transmitter, expressly designed for industrial field service.

This precision unit converts a signal pressure input into a precise 4-20 mA or 10-50 mA output.

The lightweight housing includes a 1/4" NPT pressure port and 1/2" NPT conduit port for field wiring. Connections are easily accessible via top cover removal.

Zero and span adjustments are available within the field wiring compartment for fine, on-site calibration adjustment.

The Type 5000 pressure transmitter uses a unique, temperature compensated piezoresistive transducer, suitable for gauge pressure measurement of non-corrosive liquids and gases.

The sensor has excellent dynamic response and is virtually insensitive to mounting orientation and ordinary industrial vibration.

Mounting holes on the transmitter housing are arranged to permit direct pipe (2″) mounting for minimum installed cost.
Features
0.1% Accuracy Typical. 
Piezoresistive Pressure Transducer Resists Vibration. 
Mounts at Any Angle. 
Easily Accessible Zero and Span Adjustments. 
NEMA 4X Housing Approved for Explosion-proof Service. 
FM Approvals for: 


Explosion Proof Service (Class 1, Divisions 1 and 2, Groups B, C & D). 
Dust Ignition-proof Service (Class II, Divisions 1 and 2, Groups E, F & G).
Specifications
Input Signal
0-15 psig, 0-1.0 bar
0 to 100 psig, 0 to 6.9 bar
0.2 to 1.0 bar, 3 to 15 psig
6-30 psig, 0.4-2.1 bar
3-27 psig, 0.2-1.9 bar
3-15 psig, 0.2-1.0 bar
Output Signal
10-50 mA DC, 2-Wire
4-20 mA DC, 2-Wire
Output Protections
Reverse polarity Protected
Accuracy Includes Non-Linearity, Hysteresis & Non-Repeatability
± 0.1 % Span typical, ± 0.25 % Span Max.
Overpressure
60 psig (4.1 bar) without failure
45 psig (3.1 bar) without calibration shift
Response Time
Less than 10 milliseconds for step change to 99 % R
Temperature Range-Operating
-40° F to +180° F (-40° C to +82° C)
Temperature Effect
Span - Less than ± 0.01 % R/°F
Zero - Less than ± 0.01 % R/°F
RFI Effect
Less than 1 % R at 10 V/meter per SAMA PMC 33.1, 2-abc
Power Supply Effect
Less than 0.005 % per volt change at the Input terminals within Specified Power Supply limits
Calibration Adjustments
Multi-turn Zero and Span Potentiometers with ± 25 % min. Adjustment
In-Process Output Monitoring
Via test jacks within enclosure without disturbing field wiring
Connections
1/2"-14 NPT Female Electrical output
1/4"-18 NPT Female Pressure Input
Mounting
Suitable bracket or optional 1/4-20 U-bolt pipe Mounting kit (P/N 971-109-000)
Finish
Epoxy Coated Aluminum Body and cover
Industrial Field Service
Oil & Gas
Chemical Processing
Pharmaceutical
Industrial Automation
Power Generation