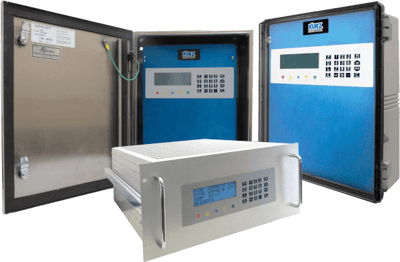 Images are representations only.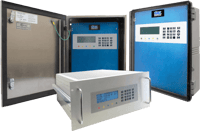 The Kurz Series 255 Flow Averaging Transmitter is a versatile system transmitter designed for measuring flow rates in very large ducts that have non-uniform or unstable velocity profiles and/or wide temperature ranges.

The Series 255 is a state-of-the-art microprocessor-based system that powers and reads up to 16 independent sensing points, providing a grand average of the flow and temperature.

The Series 255 continuously reads and analyzes flow and temperature data from the individual channels, and automatically removes channels from the average that are under alarm or have been removed for service or repair.

The Series 255 is designed for high reliability and high availability with multiple and independent power and communication ports so that wiring issues will not bring down the entire multi-sensor network.
Features
Up to 16 sensors providing point velocity, temperature, and sensor fault code
Polycarbonate, Stainless Steel, or rack mount options
Flow and temperature measurement data quality indication for event logging
Maintains a 30-day log of daily flow totals
Velocity-dependent correction factors for flow rate calculations
Optically-isolated loop powered 4-20 mA output
Two digital inputs:


DI1 - External trigger to toggle Maintenance Mode
DI2 - External trigger to initiate Zero-Span Cycle

Six power/data ports for input channel network segmentation


Reverse polarity, ESD, Surge, EFT, and EMI protection
Each port current limited to 3.4 A

One 4-20 mA non-isolated analog input
Battery backed real-time clock
User-defined TAG ID and flow area
Three EEPROM data areas for system configuration restore points
Automatic sensor out-of-tolerance indication, alarm, and re-averaging for multipoint flow elements
Isolated USB to RS-485 port for auxiliary MODBUS connection to individual channels


Galvanic isolation up to 1000 VDC

User‐configurable English or metric units for mass flow rate, mass velocity, and process temperature


KGH, KGM, NCMH, NLPM, NMPS, PPH, PPM, SCFH, SCFM, SFPM, SLPM, SMPS

Easy‐to‐use interface


Backlit Display with 4‐lines of 20‐characters each; 20-button keypad

User-configurable flow display (scrolling or static)
Specifications
Certificates & Compliance
Industrial Safety for Electrical Equipment: Ordinary Locations - IEC/CSA/UL 61010-1 and 61010-2-030
Industrial Safety for Electrical Equipment: Hazardous Locations - ETL/cETL, ATEX | IEC/CSA/UL 60079-0 - Explosive Atmospheres |  IEC/CSA/UL 60079-7 - Increased Safety |  IEC/CSA/UL 60079-15 - Type of Protection | IEC/CSA/UL 60079-31 - Equipment Dust Ignition
EMI Compliance: EN 61000-6-2 - EMC Immunity | EN 61000-6-4 - EMC Emission | EN 61000-3-2 - Harmonic Current Emissions | EN 61000-3-3 - Voltage Fluctuations & Flicker
Environmental: IP 65 Ingress Protection | IP 66 Ingress Protection | NEMA Type 4X
NAMUR Signaling Standard: NE43-Compliant 4-20 mA Outputs | NE107-Compliant Front Panel Indicators
Electronics Operating Temperature
Flow Measurement Range
0 to 70,000 SFPM x A (0 to 325 NMPS x A), A=Pipe / Duct Area
Input Power
Models 255A, 255B, 255C - 100-240 Vac, 50/60 Hz
Model 255DC - 24 Vdc, 3.6-13.5 A,  depending on number and type of flow sensors
Measurement Rate
< 0.1 second per Sensor @ 38.4 kbps
Models
AC-Powered Models (Model 255A up to 4 Channels,  Model 255B up to 9 Channels,  Model 255C up to 16 Channels)
DC-Powered Model (Model 255DC up to 16 Channels)
Optically-Isolated Loop Powered 4-20 mA Outputs (+/- 48 VDC Isolation)
12-bit Resolution and Accuracy
Maximum Loop Resistance is 300 Ohm at 18 Vdc
550 Ohm at 24 Vdc, 1400 Ohm at 36 Vdc
Temperature Measurement Range
HT Elements: -40° F to 500° F (-40° C to 260° C)
HHT Elements: -40° F to 932° F (-40° C to 500° C)
Two Optically Isolated Solid-State Relays/Alarms
0.5 A, 24 Vdc Optically Coupled Solid State Relays
Options
NEMA Type 4X Window Kits for Stainless Steel Enclosures
Startup Assistance: Site visit by factory technicians for startup, installation Verification, and Commissioning
Field Calibration: In-situ Flow Profile Traversing with Calibrated Measuring Equipment by Qualified Technician
Stack & Flue Gas
Coal Pulverizer Air
Cement Plants
Nuclear Power Plants
EPA & AMS Emissions Monitoring
Any Duct without Metering Runs