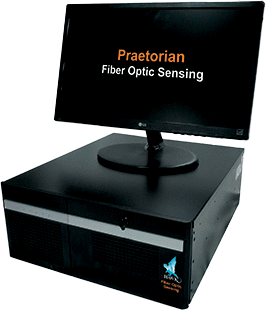 Images are representations only.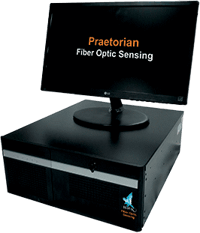 Tailings Dams are massive structures used all over for the bulk storage of mineral processing wastes. These earthen structures can measure tens of kilometers in length and width and be hundreds of meters tall. In terms of total volume tailings dams are the largest manmade structures in existence.

However, over the last 20 years the rate of tailings dams failing has doubled. Failures of tailings dams are perhaps the worst possible case scenario for any mineral extraction operation. Events causing loss of life in the hundreds or even thousands, Environmental fines reaching billions of dollars and the loss of facility infrastructure and production are a confronting prospect.

HAWK has developed a solution to prevent tailings dams failure. HAWK's Praetorian Geological Stress Detection System utilizes fiber optic sensing technology for the real time monitoring of field strain within earthen structures.

This revolutionary technology uses fiber optic cables that are then inserted into the structure through drilled boreholes.

These cables monitor field strain and deflection caused by dam loading and report both the borehole position and depth where the strain or deflection is occurring within the retaining wall structure.

Sensitivities achievable with the Praetorian Geological Stress Detection System means that potential issues with ground shift can be detected and intercepted well in advance of visually symptoms of structural issues.
Features
Early Warning system
Smaller faults found earlier
Personnel free operation (fully automatic)
Suitable for remote alert/alarm configuration
Email Reporting and SMS alarm integration compatible
Removes personnel from the line of fire
Online
Specifications
Sensing Element
Fiber Optic Sensing Cable
Power Supply
110-240 Vac (50/60 Hz), 24 Vdc
Sensing Range
Conveyors: Up to 25 kms (16 miles) Per Channel
Temperature (Cable): -200° to 800° C (-328° to 1,472° F)
Operating Temperature
Interrogator: 0° to 40° C (32° to 104° F)
Storage Temperature
Interrogator: -20° to 60° C (-4° to 140° F)
Humidity
Operating: 10 % to 85 % @ 40° C Non-Condensing
Storage: 10 % to 95 % @ 40° C Non-Condensing
Output
Modbus Ethernet TCP/IP (Standard), Relay, USB, SCADA
Light Source
Laser (Infra Red) Class 1M
Processor Transfer Rate
64 Bit (Ultra High Speed)
Coal mines (Hazardous area Suitable) 
Hardrock Mines 
Unmanned Tailings Facilities 
Historical Sites of Concern 
Ecological or Safety Critical Structures 
Tailings Dams 
Open Pit Mines (Shelf Stability) 
Tailings Reprocessing Projects 
Reservoirs 
Embankments 
Levies and Flood Barriers