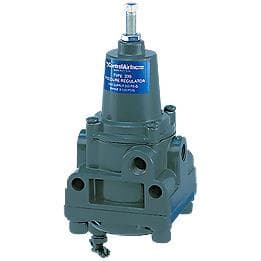 Images are representations only.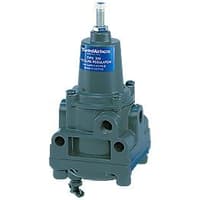 The Type-300 Instrument Air Filter Regulator is designed to provide clean, accurate air pressure to instruments, valves, and other automatic control equipment.

This filter regulator has been proven to provide accurate operating characteristics under variable conditions. Durable materials and a standard epoxy paint finish provide long lasting corrosion resistance in harsh industrial environments.

The Type-300 is a quality unit that is ideal as an economical alternative for control of process applications.

The Type-310 NACE Filter Regulator incorporates all of the operating features of the Type-300 filter regulator, but is constructed of materials that meet NACE specification #MR-01-75 for sulfide stress cracking.

Designed specifically for corrosive sour gas environments, the Type-310 NACE is ideal for oil field applications.

The Type-320 Filter unit is a 40-micron depth filter that removes dirt, moisture and other particles from air and gas lines. Robustly constructed of die-cast aluminum with a baked epoxy finish, this unit stands up in corrosive operating conditions.

This filter is an economical alternative for air supply line applications that don't require a pressure reducing regulator.
Features
Corrosion-Resistant and NACE Compliant Construction


Types 300 and 320 feature Aluminum die-castings, finished with irridite and baked epoxy. Materials in the Type 310 meet NACE MR-01-75 requirements. 

Depth Filter


Units come equipped with high capacity 40 micron depth filter housed in dripwell 

Two Outlet Connections


Provides piping versatility 

Stable Output and Repeatability


Provides constant control under variable flow rates and supply pressures 

Low Droop At High Flow Levels


Aspirator design helps maintain set pressure at higher flow levels 

Tight Shutoff


A soft, rubberized valve provides a positive shutoff and compensates for dirt and other foreign matter 

Low Air Consumption

Tapped Exhaust

Set Point Range: psig: 0 to 120 (bar: 0 to 8, kPa: 0 to 826) 
Supply Pressure (Maximum): psig: 250 (bar: 17, kPa: 1,723) 
Ambient Temperature: -40° to 82°C (-40° to 180°F) 
Port Size: 1/4" 
Port Thread: NPT 
Material of Construction:


Body & Housing: Diecast Aluminum Alloy, Irridite and Baked Epoxy Finish 
Filter: Phenolic Impregnated Cellulose 
Elastomers: Nitrile, Viton 
Trim: Heat Treated Plated Steel, Stainless Steel
4,160 models matching criteria
Specifications
Air Consumption
> 5 scfh
None - Typical 320 Only
Approvals & Certifications
Exhaust Capacity - Relieving Units Only
0.1 scfm at psig: 100 (bar: 6.9, kPa: 689.5) Supply with psig: 20 (137.9 kPa, 1.4 bar) Output
None - Typical 320 Only
Filter
Phenolic Impregnated Cellulose (40 microns)
Phenolic Impregnated Cellulose (5 microns)
Flow Capacity
Typical 300: 22 scfm at psig: 100 (bar: 7.0, kPa: 700) System Pressure
Typical 310: 20 scfm at psig: 100 (bar: 7.0, kPa: 700) System Pressure
Typical 320: 30 scfm at 100 psig (7.0 bar, 700 kPa) System Pressure
Pressure Range
bar: 0 to 8.2
kPa: 0 to 827
psig: 0 to 120
Sensitivity
1" WC (2.54 cm)
None - Typical 320 Only
Supply Pressure - Maximum
bar: 17.2
kPa: 1,723
psig: 250
Supply Pressure Effect
> psig: 0.2 (bar: 0.01, kPa: 1.3) for psig: 25 (bar: 1.7, kPa: 172.4) Change
None - Typical 320 Only
Temperature Range
-40° to 82° C (-40° to 180° F)
Trim Material
Heat Treated-Plated Steel
Stainless Steel