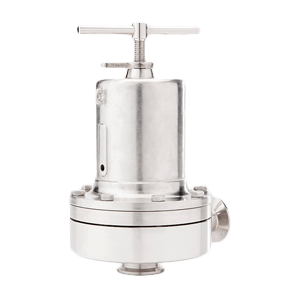 Images are representations only.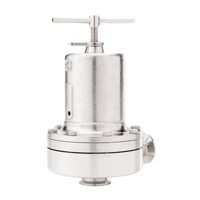 The Mark 96 Sanitary Pressure Regulator is designed to regulate pressure in systems requiring the maintenance of sanitary conditions.

The Mark 96 operates by sensing pressure under the diaphragm on the downstream side of the seat.

As the downstream pressure approaches the set point, the force caused by the pressure acting on the diaphragm overcomes the force of the range spring, and the plug begins to move up toward closed.

This reduces the downstream pressure and maintains the set point.

If the pressure underneath the diaphragm begins to fall, the spring forces the plug to move down towards open, to allow the set point to be maintained.
Features
No guiding surfaces in the fluid – minimizes particulate generation
100% 316L barstock body – no wetted parts made from castings
Best accuracy (least droop – set point offset) in the industry
Jorlon diaphragm – lifetime warranty
Tri-clamp gauge port
Manual CIP pin allows user to look the regulator in full open position during Rinse/CIP/Rinse cycle
Specifications
Sizes
3/4", 1", 1-1/2" 2", 3", DIN DN 20, DN 25, DN 40, DN 50, DN 80, ISO DN 20, DN 25, DN 40, DN 50, DN 80
End Connections
DIN/ISO Tube Weld Ends to DIN 11866 Row A, B
DIN/ISO Tri-Clamp Conn's to DIN 32676 Row A, B
ASME Tube Weld Ends
ASME Tri-Clamp
Gauge Port
3/4" ASME BPE Hygienic Tri-Clamp
Body Connections
Mark 96 - Bolted - Standard for all sizes
Body & Trim Materials
ASTM A479 316L (Other materials upon Request)
Seat Materials
Optional Soft Seat
- Jorlon (for Cv 1.5, 3/4" size and above) (FDA & USP Class VI) for steam and hot fluid service to 338° F (170° C)
- Teflon (for Cv 1.5, 1" (DN 25) size and above) to 252° F (122° C) continuous or 275° F (135° C) intermittent [not to exceed 15 min. in a one hour period] FDA, USP Class VI
- PEEK (3/4" and above) (FDA & USP Class VI) for steam and hot fluid service to 350° (177° C)
Standard hard seat - integral 316L Stainless Steel seat
Spring Housing Materials
1-1/2" - 3" (DN 40 - DN 80): - Material: Fabricated 316L Stainless Steel
3/4" - 1" (DN 15-DN 25): - Material: A351 CF8M 316 Stainless Steel Investment Casting, if SF5 or better finish Required, Fabricated 316L
Diaphragm Materials
Class VI (For use with 3-8 Range spring only
Ultra-thin Jorlon (to 400° F, 204° C), FDA, USP
EPDM/Nylon (to 275° F, 135° C), FDA only
316L Stainless Steel
Jorlon (to 400° F, 204° C) - FDA, USP Class VI
O-Ring Materials
*While rated to exceed normal Clean Steam Operating Tempera- tures, Steriflow does not recommend the use of Non-encapsulat- ed Viton, or Silicon for Continuous Clean steam Service. Contact the factory if questions.
Teflon-Encapsulated Silicone (To 400° F, 204° C) - FDA, USP Class VI (1" - 3" only)
Teflon-Encapsulated Viton (To 400° F, 204° C) - FDA, USP Class VI
Silicone (to 400° F, 204° C) - FDA, USP Class VI*
Viton (to 400° F, 204° C) - FDA, USP Class VI*
Buna-N (to 225° F, 107° C) - FDA
EPDM (to 275° F, 135° C) - FDA, USP Class VI
Shutoff
ANSI Class III hard seat or Class VI Soft seat
Body Pressure Temperature Rating
(Dependent upon Construction)