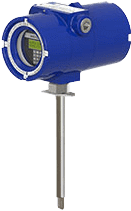 Images are representations only.
410FTB Series Single-Point Insertion Aeration Air Flow Meter
Brand:
Kurz Instruments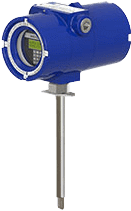 The Kurz 410FTB flow meter is specifically designed to monitor aeration air flow in water and wastewater treatment facilities.

Its response time to velocity changes coupled with its low noise signal allow for the highest control of dissolved oxygen (DO).

By improving DO control in aeration basins, significant improvements in energy efficiency are realized.
Features
The fastest, lowest noise response to velocity changes in the industry
The highest repeatability, accuracy, and reliability available
Constant temperature thermal technology
No requirement for flow conditioners or minimum upstream metering runs for aeration applications
Interchangeable sensor and electronics (single circuit board) — no matched sets
Continuous self‐monitoring electronics that verify the integrity of sensor wiring and measurements
Zero velocity as a valid data point
Sensor does not overheat at zero flow by using a unique constant temperature control method and power limiting design
Completely field configurable using the local user interface or via a computer connection
Supports HART, Profibus DP, and Modbus communication protocols
Velocity dependent correction factors for dynamic flow profiles
Sensor Blockage Correction Factor (SBCF)
Flexibility with transmitter-attached or transmitter-separate designs
Patented digital sensor control circuit (US 7,418,878)
3-year warranty
Specifications
Velocity Range
0 to 12,000 SFPM (56 NMPS)
Velocity Accuracy
SFPM at Laboratory Conditions: ± (1 + 2000/v) % of Reading
Response Time
0.18 seconds to 63 % of final value
Noise (Coefficient of Variation)
Temperature Accuracy
± (0.5 % of Reading +1° C) for Velocities above 100 SFPM
Electronics Operating Temperature
Integral Display: -13° F to 149° F (-25° C to 65° C)
Remote Aluminum Enclosure: -40° F to 149° F (-40° C to 65° C)
Remote Polycarbonate Enclosure: -13° F to 149° F (-29° C to 65° C)
Process Conditions
Process Pressure Rating: Up to 50 psig (345 kPag)
Process Temperature Rating: -40° F to 347° F (-40° C to 175° C)
Certificates & Compliance
Industrial Safety for Electrical Equipment: IEC/CSA/UL 61010-1
CE and UKCA Compliance: EMC, LVD, PED, ROHS, and WEEE
NAMUR Signaling Standard NE43 Compliant 4-20 mA Outputs
Based on SIL design
Installation Requirement
The Flow Meter should be placed 3 line diameters or more Upstream of the Flow Control Valve