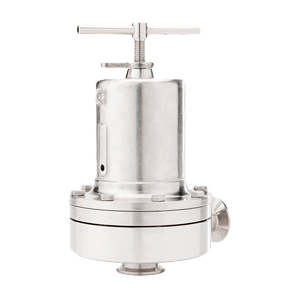 Images are representations only.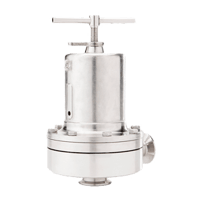 The Mark 95 is available with a hard or soft seat and a variety of diaphragm and o-ring materials, making the valve well-suited for virtually any sterile back pressure application.

The Mark 95 operates by sensing the inlet pressure, or back pressure, beneath the diaphragm, as flow enters from either inlet side port.

If pressure exceeds the setpoint, the diaphragm is pushed upward, compressing the range spring and lifting the stem and plug off the seat, relieving the excess pressure through the valves bottom outlet.

If the pressure decreases, the spring and diaphragm will relax, allowing the stem to return to the normally closed position.

If a different set point is desired, a simple turn of the adjusting screw will increase or decrease the setting to any set point within the range covered by the regulator's spring.
Features
NEW! Optional Lift Lever option allows the valve to be fully opened during CIP/SIP 
CRN Registration Number Available 
Soft seat capability for ANSI Class VI shutoff 
No guiding surfaces in the fluid – prevents particulate generation 
100% 316L barstock body and trim 
Self-draining 
No threads to disassemble for cleaning 
Clean-in-Place, Steam-in-Place – dome features spring arrangement to allow CIP/SIP 
Lifetime warranty on Jorlon diaphragm 
DIN & ISO Tri-Clamp and tube weld ends - available as options 
Optional integral gauge port (3/4" ASME BPE)