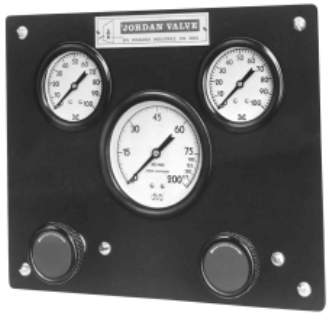 Images are representations only.
Mark 12 Series Panel Mounted Loading Station
Brand:
Jordan Valve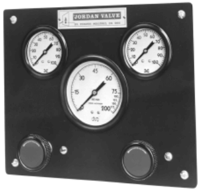 The Mark 12 panel mounted manual loading stations are used for the positioning of air-actuated valves and other pneumatic control equipment from a remote, centralized control location.

When used with Jordan's Mark 66 air-loaded regulators, they provide accurate visual control to meet the precise requirements of the tire and palstic molding industries, as well as the exacting demands of many other process industries.
Features
Three models available.
Flow capacity of 25 scfm (100 psi/6,9 bar supply; 20 psi/1,4 bar outlet).
Droop less than 2 psi (0,14 bar) at 15 scfm (measured by 3″ downstream).
Exhaust capacity of 0.5 scfm (downstream pressure 5 psi/0,34 bar above setpoint).
Sensitivity: 1″ of water.
Effect of supply pressure variation: less than 0.25 psi/0,017 bar for 25 psi/1,7 bar maximum.
Supply pressure: 250 psi/17 bar maximum.
Fast delivery: next day shipment usually available.