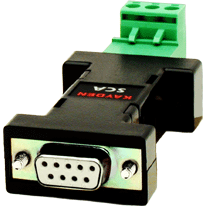 Images are representations only.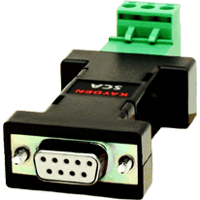 Serial Communication Adaptor

RS-232 side

Connector: DB-9 female
Signals:


Passes through pins 3 (TD) and 2 (RD)
Pins 7 (RTS) and 8 (CTS) are tied together
Pins 4 (DTR), 6 (DSR) and 1 (CD) are tied together
RS-485 side

Connector: 4-pin terminal block
Signals:


Half-duplex two-Wire operation only
Automatic control circuit enables driver only when transmitting
Receiver is disabled when transmitting to prevent echo back to RS-232 device
Can transmit up to 4000 feet at 19200 baud.
Power Requirements

At least two RS-232 handshake lines, derives power from hosts serial port
Specifications
Standard Features
RS-232, RS-485 Converter for Modbus Protocol
SCA Power from Host Serial Port.