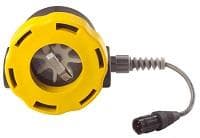 Images are representations only.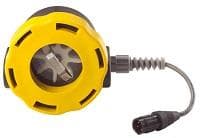 Perfect monitoring solution for chillers/cooling circuits, HVAC, batching and industrial process control applications.

Value Pricing

Low cost operation combined with low cost maintenance, equals better bottom line savings for your operation.

Encapsulated Circuitry

Withstands the harshest environments.

Several Outputs Available

The standard interface is a 2-wire, 4-20mA current loop. Sensor signal may be transmitted on a low cost wire without degradation. Pulse, relay and 0-5 VDC (regulated) are also available.

Connects Directly to your Flow Monitoring Instruments

Can be connected directly to analog acquisition cards, chart recorders or other monitoring instruments, without external signal conditioning.

Simply Plumb and Apply Power

Comes factory calibrated to your flow range specifications.
Features
Low cost polycarbonate paddle wheel flow meter for inline flow sensing of liquids.
Wetted Materials: polypropylene, polycarbonate, Buna-N, acetal copolymer, PEEK, SS.
Media: -6 » 65°C, up to 150PSIg (~10bar).
Flow range: set as a 10:1 turn-down ratio of the chosen maximum flow rate.


2 » 56 L/min (0.5 » 15 USGPM) or.
1 » 17 L/min (0.25 » 4.5 USGPM) with optional low-flow adapter.

Process Connections: ½" NPT.
Supply: 12»24Vdc.
Output: choice of 4-20mA, pulse, voltage or relay (Form C).
Electrical Connection: 120" (3m) cable, IP65 (weatherproof).
Filtration: recommended 150 micron filter.