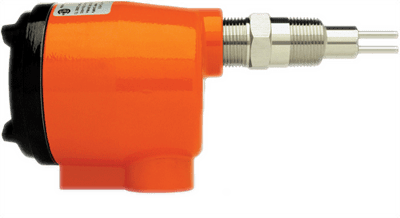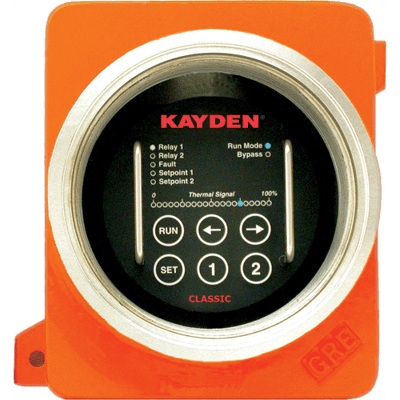 Images are representations only.
Kayden CLASSIC® 800 Series Spare Electronics Module, L10-800-C-E
Part Number:
L10-800-C-E
Brand:
Kayden Instruments
KAYDEN® CLASSIC® 800 Series Thermal Switch/Transmitter Electronics Module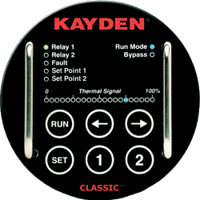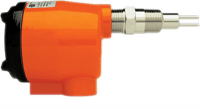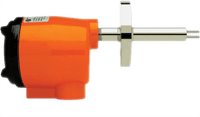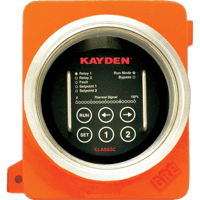 The CLASSIC 800 Series Electronics Module is for use in the following Models: 810, 812, 814, 816, 828, 830 & 832
Input Power


12-24 Vdc
115-230 Vac, 50 to 60 Hz

Outputs


Dual SPDT Relay Contacts Rated @ 5 Amps Resistive 230 Vac or 24 Vdc Maximum
Modbus via RS-485

Advanced Diagnostics


Any open or shorted connection will result in a FAULT indication that also deactivates all relays and disables the heater circuitry
An internal watchdog circuit ensures that the microprocessor code is performing as expected, and a secondary external watchdog circuit ensures that the microprocessor itself is functioning. In the event of a malfunction both circuits force the contacts open, illuminate the Fault LED and force the heater off. This prevents the possibility of a "runaway" heater or a high thermal offset.

Intelligent User Controls
The Kayden CLASSIC 800 series Display Panel features bright LED indicators for easy viewing even in direct sunlight.
An adjustable power-on Start-up Bypass Timer is accessible from the Display Panel for low flow alarm pump protection applications. This makes it possible to disable a pump on low flow and have it automatically restart after a predetermined time in the event of a power interruption.
Four adjustable delay timers allow the introduction of repeatable time delay into the (set point) relay trip function. For example, in a pump protection application this function will shut down the pump after the switch sensor has gone "dry" for the pre-set time (delay) limit.
The Kayden RCM Software includes the option of locking the CLASSIC 800 Series Display Panel to eliminate field adjustments or tampering.
Modbus allows multiple Kayden units to be connected to the same communications bus (via RS485) and monitored simultaneously.
Standard Features

Microprocessor Based Electronics
Intelligent User Interface
Continuous Self-Test Diagnostics of Electronics & Sensor
Temperature Compensation
Variable Heater Power
Dual Independent Relays
Relays are Factory Set to Monitor Flow
Adjustable Power-on Start-up Bypass Timer
Adjustable Set Point Deadbands
4 Adjustable Independent Switch Point Timers
Display Panel Lock-Out (controlled via the Kayden RCM Software)
No Mechanical Jumpers or Trim-pots
Process Temperature via Modbus and/or One or Both Alarm Relays
Specifications
Communication
RS-485 Using Kayden's Remote Control & Monitoring Software (RCMS) or other Modbus Compatible Software
Electronics - Standard Features
*Configurable only from the Kayden RCM Software
100 % Digital Design. Electronics are Environmentally Sealed
4-Adjustable Independent Switch Point Timers
Automated Redundant Self-Test Diagnostics
Display Panel Lock-Out*
Easy Setup: No Mechanical Jumpers or Trim Pots
Incrementally Adjustable Heater Power (5 % Steps) with Automatic Over-Range Protection
Intelligent User Interface with Push-Button & Constant Display of Operation (Flow/Level)
Start-Up Bypass Timer
Temperature Compensation
Temperature Mode*: Process Temperature may be Displayed/Graphed in Flow/Level Mode
Input Power
12-24 Vdc, 120-240 Vac, 50/60 Hz
Operating Temperature - Electronics
-55° to 65° C (-67° to 149° F)
Flow / No-Flow Monitoring & Verification

Air, gases, water, hydrocarbon-based liquids, viscous fluids, liquids with particulates and/or suspended solids and slurries.
Pump Protection
Pipeline / Material Storage
Flare Gas Monitoring
Relief Valve & Rupture Disk Flow Monitoring
Purge Air Flow
Eye Wash Stations
Tanker Loading & Unloading
Well Optimization
Interface

Interface (Level) Detection
Separation Vessels, Oil / Pad / Water
Knockout tanks
Leak Detection

Fast, Accurate and Repeatable at Low Flow
Rates
Drain Line Flow
Lube / Seal Oil Systems
High / Low Level Detection

Water, hydrocarbon-based liquids, viscous fluids, liquids with particulates and/or suspended solids and slurries
Tank Overflow Protection
Process Tank Batching Control
Temperature

Process Temperature Monitoring
One Relay Configurable for Process Temperature