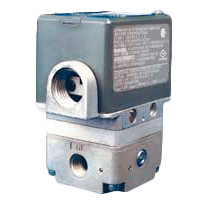 Images are representations only.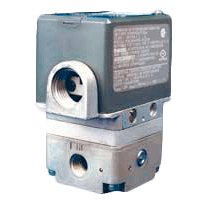 Type 1001 IP and EP Transducers from Marsh Bellofram are a patented family of electro-pneumatic instruments, used to reduce a supply pressure to a regulated output pressure which is directly proportional to a two-wire current or three-wire voltage input.

This design incorporates closed loop sensing of the output pressure to achieve excellent accuracy and vibration stability. It also features a unique damping circuit which can be adjusted to prevent overshoot and actuator "hunting."

Model selection includes General Purpose (NEMA 1), Rainproof (NEMA 3R), and Watertight/Corrosion Resistant (NEMA 4X). NEMA 4X models are also explosion-proof and all models are intrinsically safe.
Features
0.1% Accuracy Typical. 
Closed-loop Pressure Feedback Control Minimizes Effects of Vibration, Temperature, Supply Pressure and Mounting Angle. 
Built-in Volume Booster Provides Flows up to 12 SCFM. 
Easy Access Zero and Span Adjustment. 
Damping Pot Prevents Overshoot and "Hunting". 
Low Air Consumption. 
Mounts at Any Angle (NEMA 3R Limited). 
Compact and Lightweight. 
Virtually No Sensitivity to Supply Pressure Changes. 
Removable Orifice for Easy Maintenance.
Specifications
Certifications & Approvals
Accuracy
± 0.1 % of output Span, typical
± 0.25 % of output Span, Max. (Guaranteed)
Operating Temperature
BUna-N Elastomers: -20° to 160° F (-29° to 71° C)
Viton Elastomers: 0° to 160° F (-18° to 71° C)
Storage Temperature
Buna-N Elastomers: -40° to 200° F (-40° to 93° C)
Viton Elastomers: -15° to 200° F (-26° to 93° C)
Supply Pressure - Maximum
Port Size
Pneumatic: 1/4" NPT
Electrical: 1/2" NPT
Valve Actuators
Louver and Damper Actuators
Valve Positioners
Relays
Clutches and Brakes
Controllers
Air Cylinders