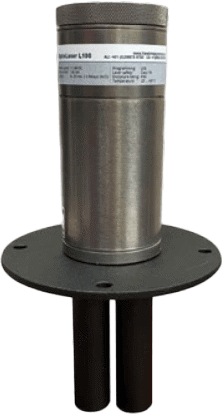 Images are representations only.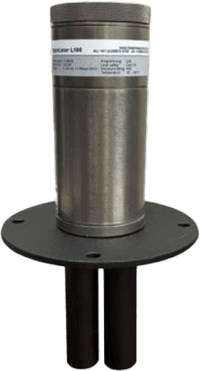 The OptioLaser L100 is a non-contact laser sensor used to measure the distance to solid and liquid surfaces, slurries or murky water. Solid surfaces can be anything from a at metal plate on the side of an overhead crane, to the top of material stored in a silo.

With an easy to use menu system, the OptioLaser can be configured for either distance or level measurement and the high accuracy, long range and fast update rate make this the ideal sensor for many different applications.
Features
Non-contact measurement with laser technology
303 Stainless steel housing
Measurement range up to 50 meters (164 feet)
Continuous measurement with a resolution of 10 mm
NAMUR compliant 4...20 mA output
2 Normally open relay outputs
Easy conguration via USB
Specifications
Accuracy
< 0.1 % of Full Range at 20° C (68° F)
Operating Temperature
-20° to 60° C (-4° to 140° F)
Sensing Range
0.3 to 50 m (0.98' to 164')
Power Supply
24 Vdc Nominal (12-28 Vdc)
Analog Output
4-20 mA NAMUR Compliant Selfpowered & Non-Isolated. 2 x Relays (N/O), 42 V dc at 1.3 A
Beam Divergence
< 1° to Half Power Points
Shaft
Bypass
Basin
Stilling Well
Sewage Plant
Tank or Vessel