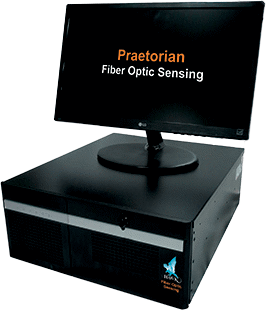 Images are representations only.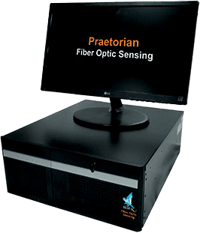 The Praetorian Fiber Optic Sensing System can monitor buried and unburied data cables, wires and power transmission lines. Monitoring for wear, damage or corrosion of the cable is extremely difficult and often power failure or data outage is the first sign of a problem.

These cables are typically installed in areas that have multiple uses by various stake holders and in the event of a failure can be logistically difficult and expensive to access for repair.

The Praetorian Fiber Optic Sensing System can be installed either near the power cables or embedded within the power cable itself. It can monitor disturbances, identify manual and machine excavation, vehicle movement, ground condition assessment and detects hotspots.

HAWK's Fiber Optic Sensing System requires no additional field infrastructure such as power or communication and does not require maintenance or calibration after commissioning.
Features
Detection of hot spots
Conductor break detection
Underground and Above ground Cable Monitoring
Ground condition monitoring
Detect issues as a distributed sensor rather than a point sensor
Requires no additional field infrastructure such as power or communications
24/7 real-time monitoring
Low cost per foot
Preventative rather than reactive
Autonomous detection with low false alarm rate
Specifications
Sensing Element
Fiber Optic Sensing Cable
Power Supply
110-240 Vac (50/60 Hz), 24 Vdc
Sensing Range
Conveyors: Up to 80 kms (50 miles) Per Channel
Temperature (Cable): -200° to 800° C (-328° to 1,472° F)
Temperature: -250° to 700° C (-418° to 1,292° F)
Operating Temperature
Interrogator: 0° to 40° C (32° to 104° F)
Storage Temperature
Interrogator: -20° to 60° C (-4° to 140° F)
Humidity
Operating: 10 % to 85 % @ 40° C Non-Condensing
Storage: 10 % to 95 % @ 40° C Non-Condensing
Output
Modbus Ethernet TCP/IP (Standard), Relay, USB, SCADA
Light Source
Laser (Infra Red) Class 1M
Processor Transfer Rate
64 Bit (Ultra High Speed)
Mining and Minerals 
Utility Tunnels 
Transformers 
HVAC / HVDC 
Underground and Above Ground Power Cables