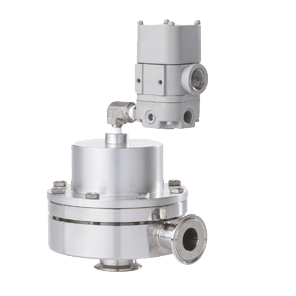 Images are representations only.
Mark 96A Series - Air Load Sanitary Pressure Regulator
Brand:
Steriflow Valve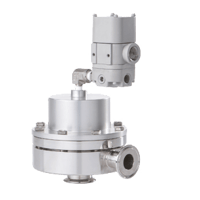 The Mark 96A is an air loaded sanitary pressure reducing valve designed to permit the user to change setpoints remotely via a cabinet or panel mounted air regulator, or through a distributed control system or PLC, using an I-P transducer.

The Mark 96A is an ideal choice for automating the SIP/CIP process when the operating setpoint for each operation is different.

With remote setpoint change capability, the valve pressure can be changed by remotely adjusting the air pressure loaded to the dome to the unique needs of the current operation.
Features
Available with extended range I-P transducer or a SST gas regulator
Fully automated operation when used with I/P. Outlet set point pressure, and operation at full open during Rinse/CIP/Rinse cycle is controlled by PLC or DCS menu
Automated operation drastically reduces offset (droop) compared with spring loaded regulators
MK95, air-loaded design significantly reduces size and weight
Optimized diaphragm material, surface area and support system for unsurpassed performance and life