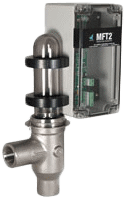 Images are representations only.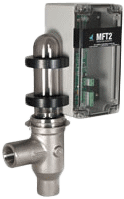 The HFT2 two-wire flow transmitter accurately calculates and outputs flow rate. Compatible with any HawkVFlo variable area flow meter, HFT2 combines HAWK's time-proven variable area technology with a high tech processor and solid state circuitry.

Each device includes an analog output that can be configured for 0-5 VDC, 0-10 VDC, or 4-20 mA current loop. Typical applications include pump flow output, compressed air consumption, cooling flow monitoring, steam flow usage/optimization and combustion gas metering.
Features
Non-contact sensor electronic 
Electronic signal conditioning circuit 
3 output modes: 4-20 mA, 0-5 VDC or 0-10 VDC 
Proportional analog output - two-wire, 4-20 mA 
Designed to slip over any standard measuring tube 
Pre-calibrated from the factory for fast installation and start-up 
Optional Epoxy Coated Aluminum Enclosure for durable, rugged applications
Specifications
Power Requirement
4-20 mA Output Loop-powered 12-30 Vdc - 2-Wire
0-10 Vdc Output 12-30 Vdc @ 3-Wire
0.5 Vdc Output 10-30 Vdc @ 3-Wire
Analog Output
0-5 Vdc and 0-10 Vdc into 10,000 Ohms Min.
4-20 mA into 1000 Ohms Max.
Meter Size
1/2", 3/4", 1", 1-1/2" to 4"
Pump Flow Output 
Compressed Air Consumption 
Cooling Flow Monitoring 
Steam Flow Usage/Optimization 
Combustion Gas Metering