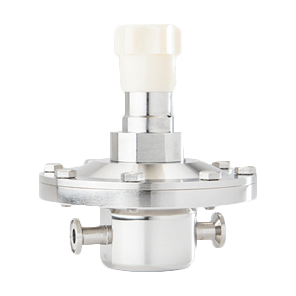 Images are representations only.
JSRLFLP Series - Low Flow and Low Pressure Sanitary Pressure Regulator
Brand:
Steriflow Valve
JSRLFLP is a high purity low flow, regulator designed and built specifically for very low pressure hygienic, ASME BPE gas applications.

The JSRLFLP has been designed specifically for very low pressure clean gas regulation in Stainless and Single Use Disposable applications.

Whether it's precise regulation for sparging, blanketing, motive force, or SUD bag inflation, the JSRLFLP was built for the job!

The durable valve body and metal trim components are machined from ASTMA479 316L SST barstock and finished to ASME BPE SF5, 20Ra micro-inch, (0.5 Ra micrometer) electropolished as standard.

The valve is outfitted with a sensitive PTFE Jorlon diaphragm and Teflon, PEEK and EPDM seats and seals that are all FDA approved, USP Class VI compliant materials.

These materials of construction enable JSRLFLP to withstand the rigors of an autoclave if required.
Features
Stable outlet pressure setpoints at very low pressure 
Very low set point offset (droop) especially at higher inlet pressures 
Top entry design facilitates in-line cleaning and maintenance 
Barstock construction guarantees material integrity and quality surface finish 
Four Cv's from 0.01 to 0.2 guarantee a valve that will fit your specific application 
Optimized internal volume 
Proprietary Jorlon diaphragm material provides exceptionally long life 
Soft seat material for ANSI Class VI shutoff