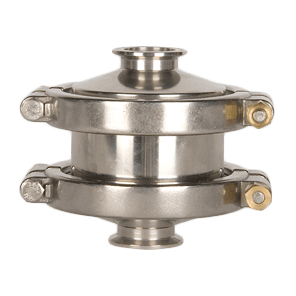 Images are representations only.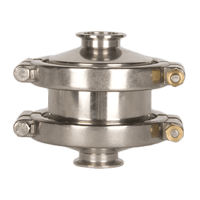 The Mark 934 sanitary steam trap system is specifically designed to facilitate the sterilization of sanitary vessels including fermentors, bioreactors and autoclaves without the addition of a SIP Heat up bypass loop.

The system consists of a high flow sanitary steam trap and a standard capacity sanitary trap in the same body.

The combined condensate capacity of the two traps handles the highest condensate and air flows during initial heat up, replacing the need for a bypass loop.

The standard integral trap manages the lower rate of condensate production during the SIP temperature maintenance period.
Features
Fill fluid meets FDA/ICH Q3C/FDA Class 3 criteria designation 
Readily handles the largest SIP loads 
Thermostatic steam trap body and stem in ASTM A479 316L 
Body barstock components and exterior are mechanically polished to 20 Ra μin (0,5 Ra μm) and 40 Ra μin (1 Ra μm) respectively 
Self-draining, no hold up 
Ease of disassembly and maintenance 
Sanitary clamp ends standard, other ends (tube weld), threaded, ISO/DIN available upon request 
Highest condensate flow rates in the industry 
Precise control of temperature at sterilization conditions 
FDA, USP Class VI gaskets standard