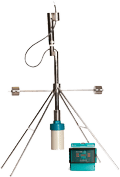 Images are representations only.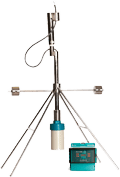 The HAWK Sultan Sonar uses Advanced Sonar Technology to measure and control Waste Water Clarifiers and Thickeners. The system is easy to use and the innovative design provides critical plant control to optimize performance.

In the water, wastewater industry process conditions will vary greatly between a primary sedimentation tank, secondary/final clarifier, and a gravity thickener.

Thickener bed levels, secondary RAS blanket, flocculent blanket, etc, all have different densities and the water above these interface levels are subject to different process conditions that change.
Features
Improved efficiency and control of the treatment process
Fully automated plant systems with reliable sludge blanket level monitoring
Advanced warning of biological upset or hydraulic imbalance
Reduced maintenance with 5 year cleaning mechanism warranty (no blades to replace)
Reduced site operational costs significantly with improved process control for downstream operations
Improved health and safety on site with compliance to OSHA regulations (no manual dips required)
Specifications
Power Supply
12-30 Vdc
36-60 Vdc
12-30 Vdc and 90-260 Vac
Communication
Modbus
5 x SPDT Relays
4-20 mA Analogue w/wo HART Isolated 4-Wire
Profibus PA / DP
FOUNDATION Fieldbus
DeviceNet
4-20 mA with Modbus over Ethernet TCP/IP
4-20 mA with Modbus over Wi Fi
Certifications & Approvals
Primary Sedimentation - Blanket Level 
Secondary and Final Clarifiers - RAS Blanket Layer 
Sequential Batch Reactors - Blanket Monitoring (Floating Sonar) 
Lagoons - Sludge Bed Level 
Lamella Clarifier - Sludge Bed Level 
Gravity Filtration and Settling