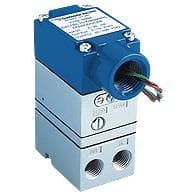 Images are representations only.
Type 900X Miniature I/P, E/P Transducer
Brand:
ControlAir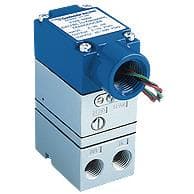 The Type 900X l/P, E/P transducers are a series of compact electronic pressure regulators that convert an electrical signal (current or voltage) to a proportional pneumatic output.

Utilizing internal solid-state feedback circuitry, the Type-9OOX provides precise, stable pressure outputs to final control elements.

Immunity to the effects of vibration or mounting position, high tolerance to impure air, and low air consumption make this unit ideal for use in demanding applications.

The heart of this unique technology is a bimorph piezo actuator that is encapsulated in a protective skin. This protective skin provides defense against the humidity and contaminants often found in process operating environments.
Features
Output Signal: 4-20 mA, 0-5 Vdc, 1-9 Vdc, 0-10 Vdc, 1-5 Vdc 
Pressure Range: 0 to 100 psig (0 to 6.895 bar, 0 to 689.5 kPa) 
Electrical Connections: 1/2" NPT 
Process Connection: 1/4" NPT 
Temperature Range:


Operating: -40° to 70°C (-40° to 158°F) 
Storage: -40° to 93°C (-40° to 200°F) 

Accuracy: ±0.10% of span 
Materials of Construction:


Chromate-treated aluminum with epoxy paint 
515 models matching criteria
Specifications
Air Consumption
standard 1.5 scfh (0.04 m³/hour) at Mid Range Typical, High 4.5 scfh (0.13 m³/hour) at Mid Range Typical
Approvals & Certifications
Electrical Connectors
1/2" NPT Conduit Fitting with Pigtail
DIN 43650
Terminal Block
Enclosure, Body Material
Chromate Treated Aluminum
Flow Capacity
12.0 scfm (20.0 m³/hour) at psig: 100 (bar: 6.9, kPa: 690)
4.5 scfm (7.6 m³/hour) at psig: 25 (bar: 1.7, kPa: 170) Supply
Standard 12.0 scfm (20.0 m³/hour) at psig: 100 (bar: 7.0, kPa: 700) Supply, High 20.00 scfm (34.0 m³/hour) at psig: 130 (bar: 9.0, kPa: 900) Supply
standard 4.5 scfm (7.6 m³/hour) at psig: 25 (bar: 1.7, kPa: 170) Supply, High 20.0 scfm (34.0 m³/hour) at psig: 130 (bar: 9.0, kPa: 900) Supply
Hysteresis
± 0.10 % of Span Guaranteed
Input
4-20 mA
Vdc: 0-10
Vdc: 0-5
Vdc: 1-5
Vdc: 1-9
Mounting
1.5" Pipe
2" (50.8 mm) Pipe
DIN Rail
Panel
Wall Mounted
Operating Temperature
-40° to 70° C (-40° to 158° F)
Output Pressure
bar: 0 to 6.9
kPa: 0 to 689.5
psig: 0 to 100
RFI/EMI Effect
> 0.5 % of Span Change in Output Pressure Per EN 61000-4-3: 1998, Amendment 1, Performance Criterion A
Storage Temperature
-40° to 93° C (-40° to 200° F)
Supply Pressure
For Output Range psig: 0 to 15: psig: 25 to 65 (bar: 1.7 to 4.5, kPa: 173 to 448)
For Output Range psig: 0 to 30: psig: 40 to 70 (bar: 2.8 to 4.8, kPa: 276 to 482)
For Output Range psig: 0 to 60: psig: 70 to 80 (bar: 4.8 to 5.5, kPa: 483 to 551)
For Output Range psig: 1 to 17: psig: 22 to 100 (bar: 1.5 to 6.9, kPa: 152 to 689)
For Output Range psig: 2 to 100: psig: 105 to 130 (bar: 7.2 to 9.0, kPa: 724 to 896)
For Output Range psig: 2 to 60: psig: 65 to 130 (bar: 4.5 to 9.0, kPa 449 to 896)
For Output Range psig: 3 to 15: psig: 20 to 100 (bar: 1.4 to 6.9, kPa: 138 to 689)
For Output Range psig: 3 to 27: psig: 32 to 100 (bar: 2.2 to 6.9, kPa: 221 to 689)
For Output Range psig: 6 to 30: psig: 35 to 100 (bar: 2.4 to 6.9, kPa: 242 to 689)
Supply Voltage
7-30 Vdc (Less than 3 mA)
Temperature Effect
± 0.07 %/°C (0.045 %/°F) of Span
Trim Material
Brass
Stainless Steel
Zinc-Plated Steel
Vibration Effect
< 1 % of Span Under the Following Conditions: 5 to 15 Hz at 0.8" Constant Displacement 15 to 500 Hz at 10 G's