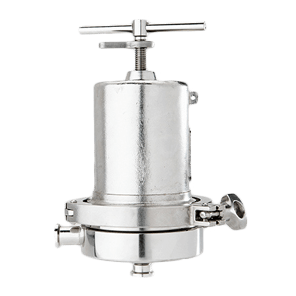 Images are representations only.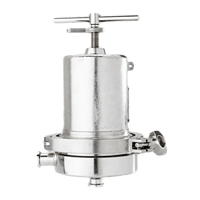 The Mark 96C is a clamped body pressure reducing valve designed to regulate downstream pressure of process and utility applications in sanitary and aseptic systems.

The Mark 96C operates by sensing pressure under the diaphragm after the medium has entered the valve from the bottom inlet port.

As the downstream pressure approaches the set point, the force caused by the pressure acting on the diaphragm overcomes the force of the range spring, and the plug begins to move up toward closed.

This reduces the downstream pressure and maintains the set point as the flow exits the valve from the side port.

If the pressure underneath the diaphragm begins to fall, the spring forces the plug to move down towards open, to allow the set point to be maintained.
Features
Jorlon diaphragm: USP Class VI, FDA approved PTFE based material which provides excellent chemical resistance and an extremely long life
Smallest Cv (Kv) of any process regulators
No guiding surfaces in the fluid-minimizes particulate generation
Self draining design
Manual CIP pin allows user to lock the regulator in full open position during Rinse/CIP/Rinse cycle
Low offset (droop)