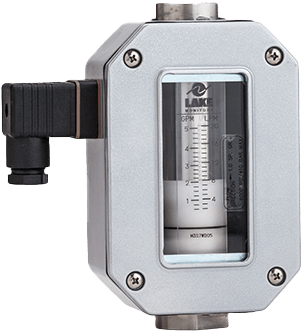 Images are representations only.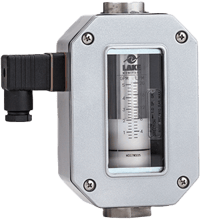 The Flow Rate Transmitter is ideal for batching, industrial process control, mobile hydraulic equipment and computer / PLC controlled hydraulic system monitoring applications.

It is designed without delicate internal components to break, abrade, or corrode.

The weather tight construction includes a rugged cast aluminum enclosure built to NEMA 4X standard for installation outdoors.

This variable area flow meter is used to measure air, gas, oil, and water.

The transmitter provides a visual indication of flow rate that matches the transmitted output for direct reading.
Features
Simple to Install: All transmitters are factory calibrated and ship fully assembled. Simply install the transmitter into your system and apply power. No straight plumbing required at inlet or outlet.
Industry Standard Outputs: Transmitters provide proportional analog or pulse outputs that will drive popular data acquisition devices, meters and analog input cards.
Direct Reading: All transmitters provide a visual indication of flow rate that matches the transmitted output.
Weather-Tight Construction: The rugged cast aluminum enclosure is built to NEMA 4X standard and allows installation outdoors and in environments where liquid tight seals are required.
Rugged and Reliable: Without delicate internal components to break, abrade or corrode, the flow transmitter will provide many years of low-maintenance service
2,997 models matching criteria
Specifications
Maximum Operating Pressure
Liquids From Aluminum & Brass: 3500 psig
Liquids From Stainless Steel: 6000 psig
Air/Gas From Aluminum and Brass: 600 psig
Air & Gas From Stainless Steel: 1000 psig
Maximum Operating Temperature
Materials of Construction
Enclosure & Cover: Painted Aluminum
Window: Pyrex
Din Connector: Polyamide
Filtration Requirements
74 micron filter or 200 mesh screen minimum