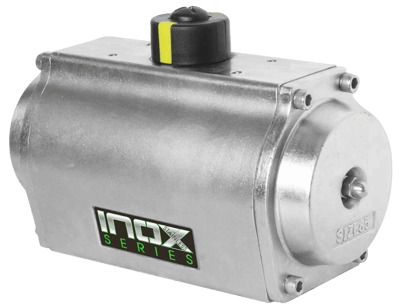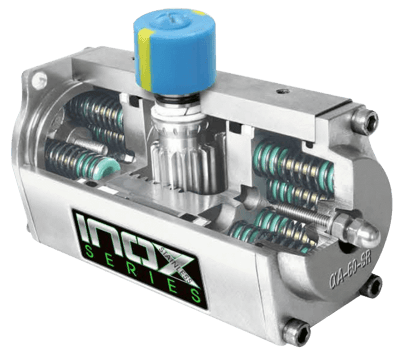 Images are representations only.
Inox Series Double Acting & Spring Return Pneumatic Rack & Pinion Actuators
Brand:
Flo-Tite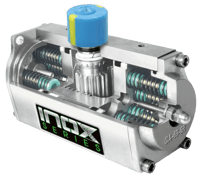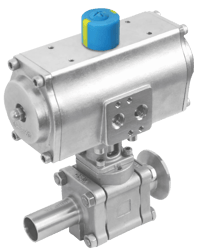 The Stainless steel pneumatic actuator is a 90o Double acting or Spring return rack and pinion system, which has been designed for the actuation of all type of 1/4 turn valves or 1/4 turn applications.

The special finish of the interior surface of the body (Ra 0,4 - 0,6 um) together with the use of antifriction pads manufactured in material of a very low coefficient of friction (LAT LUB), mounted in the pistons, prevent metal-metal contact.
Features
Suitable for Highly Corrosive Environments
Operates with Lubricated or Non-Lubricated Air
Air Supply Pressure


(30 to 145 psig) 2 to 10 bar

Operating Temperatures


Standard: -4°F to 176°F (-20°C to 80°C)
Low Temperature: -31°F to 176°F (-35°C to 80°C)
High Temperature: 5°F to 302°F ( -15°C to 150°C)

Travel Adjustment


+/- 4 Degrees unidirectional Travel 

Extended Stops Optional
Specifications
Operating Media
Clean, dry or lubricated compressed air
Light hydraulic oil
Inert and non corrosive gas (to consult)
The Max. particle size must not exceed 30 um.
Supply Pressure
Minimum: 1 bar
Maximum: 10 bar (150 psig)
Operating Temperature
Standard (NBR O-Ring): -20° C~+80° C
Low temperature (Silicon O-Ring): -35° C~+80° C
High temperature (Viton O-Ring): -15° C~+150° C
Documentation
Instructions of Assembly and Maintenance
Technical Bulletins