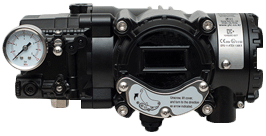 Images are representations only.
Mark 17X Series Flameproof Smart Positioner
Brand:
Jordan Valve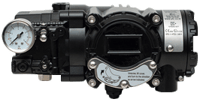 The Mark 17X Series is a CSA approved and Explosion Proof Rated EX d IIC T6/T5, Class 1, Zone 1, Group A. Additional certifications include ATEX and IECEx.

The Mark 17X Smart Positioner accurately controls valve stroke using an input signal of 4-20 mA from the controller. The smart positioner uses torque motor control for better resistance to moisture dust and vibration.
Features
The Mark 17X smart positioner has Analog feedback signal capability. Operating temperature limits from -40°C to 85°C (T5), -40°C – 70°C (T6).
Split ranges 4-12mA or 12-20mA may be set.
Operating temperature is -40°C to 85°C(T5), -40°C – 70°C(T6).