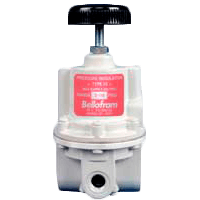 Images are representations only.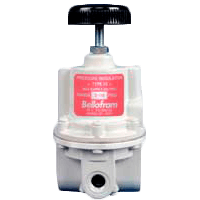 The Marsh Bellofram Type 70 High-Flow Air Pressure Regulator is expressly designed for applications requiring substantial flow capacity of up to 80 SCFM (2,250 LPM) and accurate pressure controls.

Downstream pressure can be set within 0.25 in. (6.3 mm) of water column and is accurately maintained under varying conditions via an aspirator tube which adjusts air supply in accordance with flow velocity.

A balanced supply valve, utilizing a patented Bellofram rolling diaphragm design, makes the regulator virtually immune to changes in supply pressure, and offers millions of cycles.

The Type 70 features a rugged, precision die-cast aluminum housing, and is pressure-tested and chromate-treated for internal corrosion resistance.

The regulator housing is finished with vinyl paint which resists scratching, weathering and other physical abuse.
Features
High Flow Capacity – Up to 80 SCFM (2,266 LPM). 
Responds Quickly to Minute Changes in Downstream Pressure. 
Dampening Action of Aspirator Tube Maintains Downstream Pressure. 
Honking & Buzzing Eliminated By Action of Integral Baffle and Aspirator Tube. 
Stack-up Construction Can Be Disassembled & Serviced without Removal from Air Line. 
Optional Versions Include: Non-Relieving, Corrosive Resistant Epoxy Finish, Tapped Vent, Mounting Brackets, Pressure Gauge, Low Bleed, Check Valve.
Specifications
Sensitivity
1/4" (6.4 mm) Water Column
Flow Capacity
80 scfm (2,266 LPM)
50 (1,416 LPM)
40 (1,113 LPM)
Effect of Supply Pressure Variation (25 psig) on Outlet Pressure
Exhaust Capacity (5 Above psig 20 psig Set Point)
Effect of Changes in Flow on Regulated Pressure (100 psig / 6.9 bar Supply)
2.5 psig (0.2 bar) over flow 50 scfm (1416 LPM) (3/8 NPT, 0-30 psig / 0-2.1 bar Range, 15 psig / 1 bar Set Point)
Output Pressure Ranges
3-200 psig (0.2-13.8 bar)
2-150 psig (0.1-10.3 bar)
1-60 psig (0.1-4.1 bar)
0 to 30 psig (0 to 2.1 bar)
0-10 psig (0-0.7 bar)
0 to 2 psig (0 to 0.1 bar)
Total Air Consumption at Maximum Output
from 1.0 to 12.5 SCFH (0.5-6 LPM)
Temperature Range
-40° to 200° F (-40° to 93° C)
Port Size
1/4" NPT, 3/8" NPT, 1/2" NPT
1/4" BSPT, 3/8" BSPT, 1/2" BSPT
Materials of Construction
Spring: Music wire
Knob: Phenolic Plastic
Diaphragm: Buna-N with Polyester Fabric
Trim: -Plated Steel, Brass, Acetal Resin
Adjusting Screw: -Plated Steel
Body: Die Cast Aluminum with vinyl Paint
Size
3.0" x 3.0" x 6.0" (76 x 76 x 152 mm)
Large Flow Actuation
High-flow Louvers
Rollers and Winders
High-flow Control Loops
Calibration Loops
Any OEM or Industrial Pressure Regulator Application Where a High Degree of Accuracy is Required