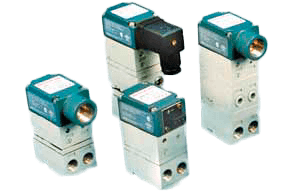 Images are representations only.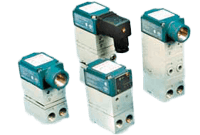 The Marsh Bellofram Type 1500 electro-pneumatic transducer converts an electrical signal to a proportional pressure output.

It provides low-cost precision electro-pneumatic control to actuators, valves, positioners, final control elements and high-flow controls.

Occupying a small overall footprint, Type 1500's compact size and accessibility to ports and adjustments allow the unit to be installed in space-constrained locations or in a manifold for multi-device control.

DIN rail and manifold assemblies are available in kits that provide three, five or ten mounting points. An integral pneumatic volume booster is included to provide high flow capacity to provide high flow capacity.

They also feature low air consumption, as well as external zero and span adjustments. Their orifice is also field accessible. (See specifications for flow data).

Type 1500 IP and EP Transducers are available with a variety of electrical connections, including conduit 1⁄2″ NPT or BSPT, Terminal Block, Hirschmann® Connectors (DIN 43 650-A). They further feature supply and output ports on front and back of unit.

Electrical conduction connections meet CE requirements. Units are available with FM, CSA and ATEX versions for hazardous area use. A NEMA 4X version, excluding the terminal block, is also available with FM and CSA approvals.
Features
Electrical Connections: Conduit 1⁄2″ NPT or BSPT, Terminal Block, Hirschmann® Connectors (DIN 43 650-A)
Supply and Output Ports on Front and Back of Unit
Low Air Consumption
External Zero and Span Adjustments
Field Accessible Orifice
Electrical Conduit Connection Meets CE Requirements
Intrinsically Safe Versions (FM, CSA, ATEX Approvals)
NEMA 4X Version (FM, CSA Approvals) Excludes Terminal Block
3,570 models matching criteria
Specifications
Accuracy
< 0.75 % to < 1.0 % of Span (Independent Linearity)
Approvals & Certifications
BSP Connection
1/4" BSPP Female
1/4" BSPT Female
Electrical Connectors
1/2" BSPT Conduit
1/2" NPT
DIN Hirschmann
Terminal Block
Environmental Protection
Intrinsically Safe
IP66
NEMA 4X / IP66
Exhaust Capacity - Relieving Units Only
> 1.0 scfm at psig: 5 (bar: 0.4, kPa: 40) Above Set Point
Flow Rate
6.5 scfm (Min.) at psig: 15 (bar: 1.0, kPa: 100) Output Pressure, psig: 120 (bar: 8.3, kPa: 830) Supply Pressure
9.0 scfm (Min.) at psig: 15 (bar: 1.0, kPa: 100) Output Pressure, psig: 150 (bar: 10.3, kPa: 1,030) Supply Pressure
Hysteresis
< 0.75 % to < 1.0 % of Span
Input
4-20 mA
Vdc: 0-10
Vdc: 0-5
Vdc: 1-10
Vdc: 1-5
Vdc: 1-9
Output Pressure
bar: 0 to 8.2
kPa: 0 to 827
psig: 0 to 120
Process Temperature
-30° to 65° C (-20° to 150° F)
Span - Minimum
< 1.7 % of Span Change in Output Pressure over Full Supply Pressure Range
< 2.5 % of Span for a Supply Pressure Change of psig: 15 (bar: 1.0, kPa: 100)
Span & Zero Adjustments
Screwdriver Adjustments Located on Front of Unit
Supply Pressure
For Output Range psig: 0 to 15: psig: 25 to 150 (bar: 1.7 to 10.3, kPa: 170 to 1,030)
For Output Range psig: 0 to 60: psig: 70 to 150 (bar: 4.8 to 10.3, kPa: 480 to 1,030)
For Output Ranges psig: 0 to 120: psig: 125 to 150 (bar: 8.6 to 10.3, kPa: 860 to 1,030)
For Output Ranges psig: 0 to 15 to 0 to 120: psi: 5 Above Max.
For Output Ranges psig: 0 to 30: psig: 40 to 150 (bar: 2.8 to 10.3, kPa: 280 to 1,030)
Supply Voltage
3-Wire Input: 1-9 Vdc / 4-20 mA
Valve Actuators
Valve Positioners
HVAC Systems
Material Handling Systems
Paper Handling Controls
Automation Systems
Liquid and Gas Processing Systems