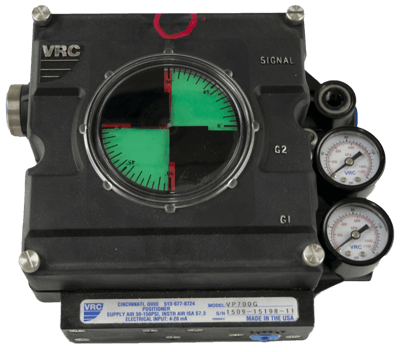 Images are representations only.
V-Series Valve Positioners
Brand:
Flo-Tite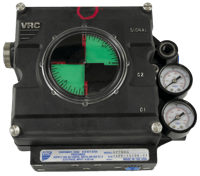 The V-Series is summed up in one word: Simplicity.

Changing a Pneumatic Positioner to an Electro-Pneumatic Positioner, adding a limit switch and/or position transmitter module, or adding gauges is a simple procedure.

Total field upgradeability

The V-Series offers true modularity to simplify changes, minimize inventory, and ease servicing.

Modular 1/P Converter

The 1/P Converter has been designed to provide flawless automatic compensation for supply pressure, atmospheric pressure, and ambient temperature changes - all standard

Integral RFI protection as well
Specifications
Resolution
0.25 % Max.
0.10 % Typical
Repeatability
99.75 % Min.
99.90 % Typical
Hysteresis
0.50 % Max.
0.25 % Typical
Gain at 80 PSIG
250 Single Acting
500 Double Acting
Air Consumption at 80 PSIG
0.5 SCF. Standard Flow Spool Valve
0.45 SCRM. Max. Flow Spool Valve
Temperature Range
-40° to 150° F/-40° to 65° C
Enclosure
PPA Composite
300 Stainless Port Rings Cover and Mounting Bolts
Internals
PPA, PPS and PEEK Composites
300 Series Stainless Steel
Nickel Plated Brass
Spool Valve
Carpenter 70 Grade
Stainless Steel
I/P Converter
PPA Composite
Teflon Coated Carbon Steel
Nickel Plated Carbon Steel
High Density Polyethylene
Delrin
Hazardous Location Information
I/P Converter Type 22/06-65 (Model VI)
Factory Mutual Approved: Intrinsically Safe, Class I,Division I, GRP. A, B, C, D Non-Incentive, Class I, Div. 2, GRP. A, B, C, D
CSA Approved: Intrinsically Safe, Class I, Div. 1 and 2, GRP. A, B, C, D
CENELEC Approved EEx ia IIC T6
For Applications In Hazardous Locations, Reference Control Documents No. 900842/900843 Available