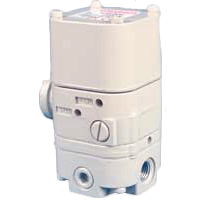 Images are representations only.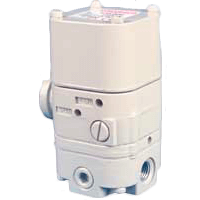 Type 1000 IP and EP Transducers are electro-pneumatic transducers that reduce a supply pressure to a regulated output pressure directly proportional to a converted electrical input signal.

The Type 1000 accepts a wide range of supply pressures, ranging from a minimum of 3 psig (0.2 BAR) above the maximum output up to 100 psig (6.9 BAR).

An integral pneumatic volume booster provides high flow capacity (up to 12 SCFM/339 slpm).

Model selections include general purpose, NEMA 4X Type, extended range, high relief, intrinsically safe, and explosion proof.

The 4-20 mA input, 3-15 PSIG output model can be recalibrated to provide 3-9 PSIG or 9-15 PSIG output for split ranging applications.
Features
Lightweight and Low Cost. 
Built-in Volume Booster. 
Small Size. 
Field Reversible. 
Low Air Consumption. 
Mounts at Any Angle. 
Convenient External Span & Zero Adjusts (Except for Explosion Proof Models). 
Wide Supply Pressure Range. 
Low Supply Pressure Sensitivity.
Specifications
Input
4-20 mA
0-10 V
0-5 V
1-9 V
10-50 mA
Output
0.2 to 8.3 bar
3 to 120 psig
Port Size (Pneumatic/Electric)
Certifications & Approvals
Valve Actuators
 Damper and Louver Actuators
Valve Positioners
Controllers
Relays
Air Cylinders
Clutches and Brakes
Liquid, Gas and Slurry Processing Instrumentation
HVAC Systems
Paper Handling Controls
Textile Processing Systems
Energy Management Systems
Petrochemical Processing Systems
Split Ranging