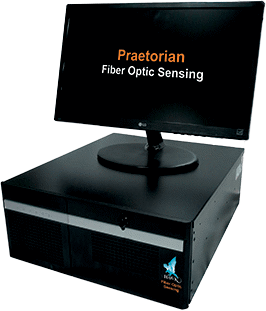 Images are representations only.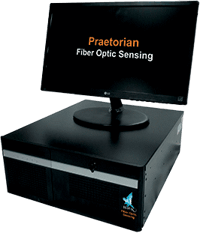 The Praetorian Fiber Optic Sensing System can be installed along a fence or perimeter and can detect, identify and report any movements.

This system has limitless applications and can be installed on anything from explosive storage areas to farms and ranches.

The fast processing speed and pulse rate allow the Fiber Optic System to detect minute interferences that may otherwise go unnoticed.

Some examples of detectable activates include intruder movement along a perimeter, intruders cutting or climbing a fence, vehicle movement along a perimeter and digging, excavating or trenching.

The Fiber Optic Sensing system is crucial for keeping valuable assets secure and protected.
Features
No time splicing, allowing zero chance for an intruder to go unnoticed
Immune to the effects of a broken or cut fiber
Fiber optic sensing detects the exact location of intruder
Self-diagnostics monitor the unitÍs condition and maintain optimum performance
No maintenance or calibration require after commissioning
Monitor up at 80 km (50 mi) at the same time.
24/7 real-time monitoring
Specifications
Sensing Element
Fiber Optic Sensing Cable
Power Supply
110-240 Vac (50/60 Hz), 24 Vdc
Sensing Range
Conveyors: Up to 40 kms (25 miles) Per Channel
Temperature: -30° to 200° C (-22° to 392° F) (Special Options for Temps Up to 800° C (1,472° F) and Down to -200° C (-328° F) Available)
Operating Temperature
Interrogator: 0° to 40° C (32° to 104° F)
Storage Temperature
Interrogator: -20° to 60° C (-4° to 140° F)
Humidity
Operating: 10 % to 85 % @ 40° C Non-Condensing
Storage: 10 % to 95 % @ 40° C Non-Condensing
Output
Modbus Ethernet TCP/IP, Ethernet PIDS (Standard), ROS, Relay, USB, SCADA
Light Source
Laser (Infra Red) Class 1M
Processor Transfer Rate
64 Bit (Ultra High Speed)
Army barracks 
Airports 
Prisons 
Explosive Storage Areas 
Country Borders 
Hazardous Areas 
Unmanned Sites