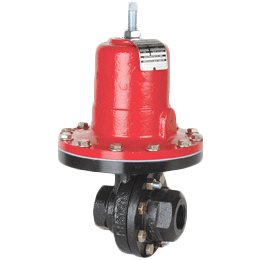 Images are representations only.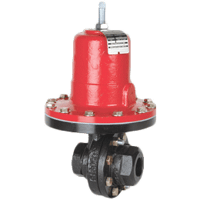 Jordan vacuum regulators control accurately and shutoff tightly to maintain the proper vacuum setting. They regulate vacuum on evaporators, cookers, grinding fixtures, milking machines, altitude chambers, and other vacuum systems.

The Mark 65 is normally up and closed. The higher vacuum acts beneath the diaphragm and lowers the diaphragm on increase in vacuum to open the valve; a decrease in vacuum raises the diaphragm to close the valve.

To adjust the set point, turn the adjusting screw clockwise to increase the vacuum or counterclockwise to decrease the vacuum.
Features
Sliding Gate Seats offer straight-through flow for reduced turbulence and quiet operation, short stroke for fast response and accurate regulation, tight shutoff, and easily interchangeable Cv's.
All metal-to-metal contacts – No gaskets, o-rings, or elastomer parts to wear out.
Compact design and simple construction allows fast, simple installation and easy maintenance.