Images are representations only.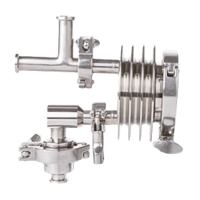 The SSC, Sanitary Subcooled Condenser is a patent pending sanitary condensate chamber and steam trap assembly that was designed to replace the 12-18" downcomer (drip leg) traditionally installed between SIP temperature sensors and sanitary steam traps.

It follows ASME BPE guidelines, being constructed of ASTM A479 316L barstock, fully drainable, and polished to SF1, 20 Ra µin (0,5 Ra µm), or optionally to SF5, 20 Ra µin electropolished.
Features
Increases process availability by:


decreasing SIP heat-up time
lowering the probability of SIP validation temperature alarms

Increases drainage by cooling condensate before entering trap enabling the bellows to contract opening orifice
Can reduce CAPex if assembly is purchased per-assembled compared with site fabricated installation
Reduces the lineal space required for a validated SIP steam trap downcomber assembly by 80%