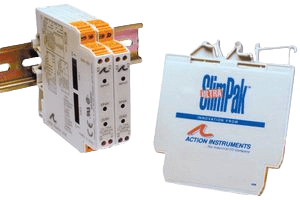 Images are representations only.
G408-0001 & G408-1001 Configurable Isolator
Brand:
Eurotherm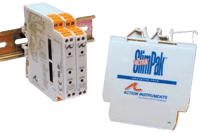 The Ultra SlimPak G408 is a DIN rail mount, DC input signal conditioner with 1,800 Vdc isolation between input, output and power.

The field configurable input and output offers flexible, wide ranging capability for DC current and voltage signals.

The input can be configured for any one of 12 voltage ranges from 10 mV to 100 V or 6 current ranges from 1 to 100 mA.

The output is linear to the input and can be set for either 0 to 5 V, 0 to 10 V, 0 to 1 mA, 0 to 20 mA or 4-20 mA (For models G408-0001) and -5 to 5 V or -10 to 10 V (For model G408-1001).
Features
Eliminates ground loops
Field configurable input ranges: 10 to 100 V, 1-100 mA
Field configurable output ranges: 0 to 5 V, 0 to 10 V, 0 to 1 mA, 0 to 20 mA, 4-20 mA, ±5 V, ±10 V
Ultra slim housing for high density installations
Flexible power supply accepts 9 to 30 Vdc
ASIC Technology
RoHS Compliant
Action DC Powered-DC Voltage/Current Input Conditioner, Isolated, Field Configurable, DC V or I In, DC V or I Out
view more
Action DC Powered-DC Voltage/Current Input Conditioner, Isolated, Field Configurable, DC V or I In, DC V or I Out
$393.00
USD
/ ea
$20.00 Shipping
Specifications
Approvals & Certifications
CE
CSA C22.2, No. 0-M91 & 142-M1987 (File No. LR42272)
EMC: EN 61326-1: 2013, Directive 2004/108/EC
LVD 2006/95/EC
RoHS
UL 508 (File No. E99775)
UR
Accuracy
< 2 mA/< 20 mV: ± 0.35 % of Full Scale
Operating Temperature
0° C to 55° C
32° F to 131° F