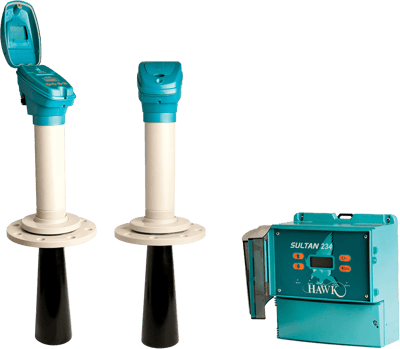 Images are representations only.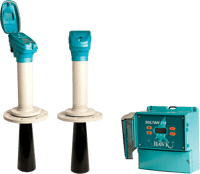 The SULTAN 234 emits a high powered Acoustic Wave transmit pulse which is reflected from the surface of the material being measured. The reflected signal is processed using specially developed software to enhance the correct signal and reject false or spurious echoes.

The transmission of high powered Acoustic Waves ensures minimal losses through the environment where the sensor is located. Due to the high powered emitted pulse, any losses have far less effect than would be experienced by traditional ultrasonic devices.

More energy is transmitted hence more energy is returned. Advanced receiver circuitry is designed to identify and monitor low level return signals even when noise levels are high. The measured signal is temperature compensated to provide maximum accuracy to the outputs and display.
Features
Non contact measurement
High Power even with two wire loop supply
Low cost per point
Wide range of communications: GosHawk, HART, Modbus, Profibus PA, Profibus DP, Foundation Fieldbus, DeviceNet, Modbus over Ethernet TCP/IP, Wi Fi, PoE
Pump Control x5 pumps
Auto compensation for dust, steam and losses
Protection class IP67, NEMA 4x (IP68 Transducer)
Programmable fail safe mode
3G remote setup options / configuration
Differential and average level control (2 transducers)
Specifications
Communication
PoE (Power over Ethernet)
Maximum Range
60 m (196 ft) for Liquids, Slurries, Powders and Solids
Up to 180 m (588 ft) for Extended Range Positioning Spplications
Certifications & Approvals
Environmental Protection
IP65, IP66, IP67, IP68, NEMA 4X
Operating Voltage
12-30 Vdc (Residual Ripple No Greater Than 100 mV)
90-265 Vac 50/60 Hz
12-30 Vdc & 36-60 Vdc
37-57 Vdc (PoE)
Power Consumption
< 10 VA @ 240 Vac
< 3 W @ 24 Vdc
< 6 W @ 48 Vdc
Analog Output
4-20 mA
Recommended 250 ohms with 24 Vdc Supply, Max. 750 ohms
Resolution
1 mm (0.04") 50, 40, 30,20, 15, 10, 5 kHz
4 mm (0.2") 9, 4 kHz
Operating Temperature
-40° to 80° C (-40° to 176° F)
Maximum Operating Pressure
Display
2 Line x 12 Digit Alphanumeric LCD
4" to 10" (100 to 250 mm)
Mounting
ANSI, JIS or DIN Flange
2" BSP Thread / NPT Thread
Cable
Integral: 3 x M16 Glands
Remote: 3 x 20 mm, 1 x 16 mm Knock Outs
General


Dirty / Dusty / Build Up Prone Applications 
Self Cleaning Sensor Face Requires No Maintenance

Water / Wastewater


River Level, Wet Wells, Inlet Screens, Tanks, Sumps, Pump Stations, Water Towers, Dams, Basin Levels, Chemical Storage

Mining


Crushers, Surge Bins, Ore Passes, Conveyor Profile, Blocked Chute, Stockpile, Stackers, Reclaimers, Storage Silos, etc.

Power Stations


Boiler Bunkers, Raw Coal Bunkers, Ash Pits, Fly Ash Silos, etc.

Others


Food, Cement, Plastics, Grain, Chemicals, Paper, Irrigation, Quarries