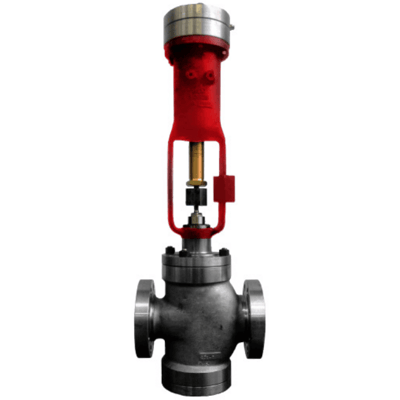 Images are representations only.
Mark 608 mm Series Self-Operated Pressure Reducing Valve
Brand:
Jordan Valve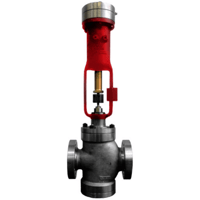 The MK 608 mm series are spring loaded, self actuated, direct-operated, valves.

Pressure reducing valves are devices whose main function is to match the flow of the medium (gas, steam or liquid) through the regulator to the demand of the medium by the system. At the same time, the regulator must maintain the system pressure at a requested value, or within an acceptable range of this pressure.
Features
Flow to open design.
Available with ISA face to face dimensions.
3 different trim size for each body size, to meet a wide range of applications.
Quick-opening flow characteristic.
Trim features metal or soft tightness, single or double ported.
Leakage classes range from II up to VI (according to ANSI/FCI 70-3).
External pressure sensing.
Separation tank to handle superheated steam or high viscosity fluid.
Stem tightness packing is available as elastomeric (lip seal) or graphite gasket.
Wide range of actuators according to the requested regulation range.
Wide range of elastomeric diaphragms.