Images are representations only.
Mark 908X Series - Low Pressure Blanketing Regulator
Brand:
Steriflow Valve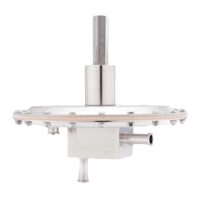 The Mark 908X Series regulator was designed specifically to provide accurate pressure control on very low pressure vessel blanketing in stainless steel and single use systems.

The Mark 908X has a large bore sensing line connection on the bottom of the actuator.

Regulated outlet pressure is directly tubed to the underside of the very large main control diaphragm.

Consequently, it responds to very small changes in tank pressure by throttling open or closed to maintain the desired pressure set point.
Features
All 316L barstock construction 
FDA and USP Class VI Compliant elastomers and fluoropolymers 
Direct Operated • Fully Balanced Plug 
Accurate regulation down to 1/2" wc (1.25 mbar) 
ANSI Class VI Shutoff 
Four spring ranges for set points between 1.25 and 103,4 mbar 
200 psi maximum inlet pressure 
Three Cv's (Kv's): 0.15, 0.2, 0.4 (0,13, 0,17, 0,35) 
Ultra Lightweight PTFE Diaphragm for Maximum Sensitivity